*This post is brought to you by our friends at Dollar Tree. I received compensation in order to facilitate this post. All thoughts and opinions are my own. This post may contain affiliate links.*
Things are in full swing here in our crazy house. Summer school has ended for Libby and Alexander, T-ball is coming to an end, Ellie is still in dance the remainder of the summer, Zack is still working and just started driver's education, Libby is taking a gymnastics class one night a week while Alexander is at tae kwon do and Joey, he's just hanging out trying to learn to walk.
With so much going on, you would think that we don't have time for much else yet, somehow we still manage to squeeze a little more in every day.
My kids, they love to craft. I constantly find them coloring, drawing, painting, creating and just having fun with different art projects and tools. Who am I to say no, you can't make me a pretty picture?
We have a closet that I like to keep stocked up with crafts and stuff for them to do but with 5 kids, these projects need to be affordable. Thanks to Dollar Tree, we are able to continuously stock the closet with some new items as well as the ones we use on a regular basis.
Dollar Tree is overflowing with great craft projects and supplies which are perfect for any budget.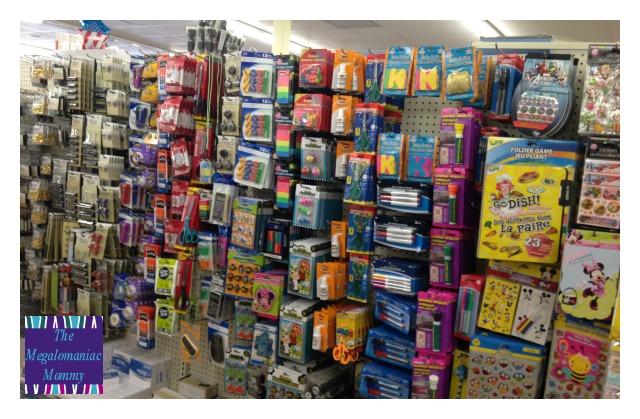 You can find a variety of paints, crayons, markers, foam shapes, paper and soooo much more! Someday I'm going to buy every craft item they have!
During a trip to Dollar Tree last week, Ellie found a cute ceramic butterfly bank to paint. *Sidenote: Ellie LOVES to paint.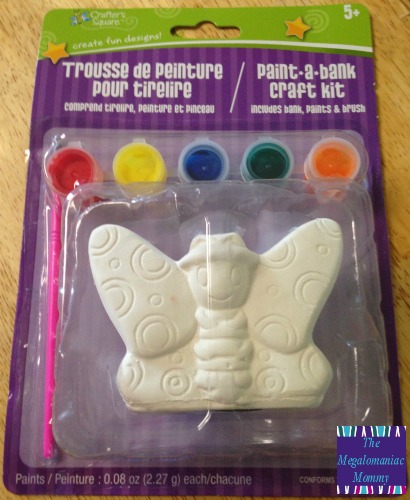 I absolutely love kit likes this because they come with the paint and brush and it only costs $1 and keeps my kids busy and entertained until the paint runs out!
She had so much fun painting her bank and has already asked if we could go back and get a few more so she can paint them for everyone.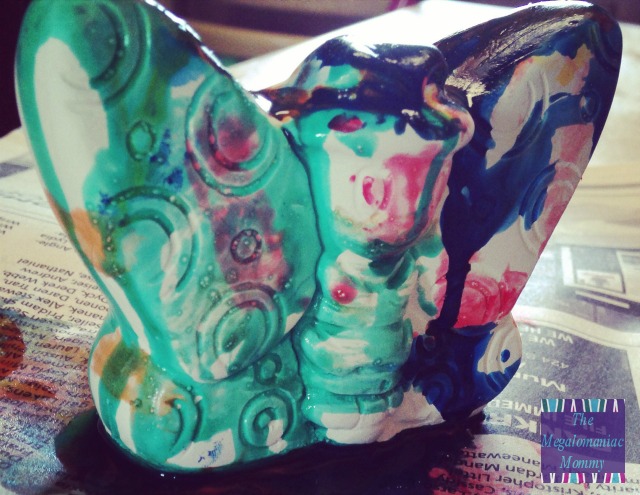 While we were at Dollar Tree, I also grabbed a few items to put together a little surpise for Ellie.
Now that Alexander, Ellie and Joey are sharing a bedroom I've been doing my best to personalize the room for each of them. Alexander stands out in the room with all of his Power Ranger stuff and his cool dinosaur name art he did in summer school.
Joey has his area with his crib and his name displayed above his bed on the wall.
Since the boys had their names on display it was time for Ellie to have something for her.
Ellie wanted something girly because she is our girly girl so we decided to make a girly name wreath for her. While we were at Dollar Tree we grabbed a red pool noodle, some foam crowns in different colors, foam letter stickers, duct tape and some fake flowers.
Here is our final product.
It may not be super fancy but Ellie LOVES it!
This wreat was super easy to make and now that I know how easy it is to use a pool noodle as a wreath form, I will be using them a lot more!

Once I had the wreath form, I chose to keep it simple and I just hot glued the crowns to the pool noodle, put the adhesive letters on to add her name and then poked 3 holes into the noodle behind everything to stick the flowers in and secured them with a little hot glue as well.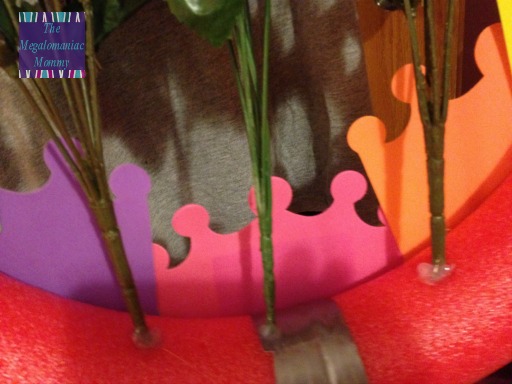 The items we purchased for this project were less than $10 and we have stuff leftover for future crafts too. More savings for us and more crafts for down the road too.
Saving money…just another reason we love the Dollar Tree.
Connect
You can connect with Dollar Tree on Facebook and Twitter.
The following two tabs change content below.
Anne is a 30-something full-time SAHM mom of 5 ranging from 3 to 17 and grandma of 1 who resides in Ashwaubenon (Green Bay) Wisconsin. She started blogging in 2008 as a way to regain her sanity. She enjoys coffee, chocolate, cheeseburgers and vodka along with spending time with her husband and kids.
Latest posts by Anne Younger (see all)