Here it is, the beginning of February and I'm sure there are a lot of people who jumped on the get healthy bandwagon who have since given up on their goals. I am happy to report that we are still going strong and doing great with our weightloss and excercise (full details coming in another post).
Since our schedules are pretty busy and we don't have a lot of free time to get to the gym (yes, more on that later too), we've had to find some ways to get a workout in at home that fits our needs and of course, doesn't take up a lot of space because, honestly, we don't have any to spare.
Thanks to the great folks at Bodylastics, we've been getting in some strengthing and toning with their great resistance bands and can't believe just how great they work. I never knew that resistance bands could provide such a great work out!
We received the 21 piece Strong Man XT Resistance Bands Set which includes:
8 Snap Guard Bands (1 Yellow band – 3lbs, 1 Green band – 5lbs, 1 Red band – 8lbs, 1 Blue band – 13lbs, 1 Black band – 19lbs, 1 Purple band – 23lbs, 2 – Orange bands – 30lbs)
4 Heavy duty foam covered handles
4 Heavy duty ankle straps
2 Heavy duty door anchors
1 Small Anywhere Anchor
1 Large 3 foot x 4 foot Exercise Wallchart
1 Two Month Free trial to LIVEexercise
1 storage/travel bag • Lifetime Warranty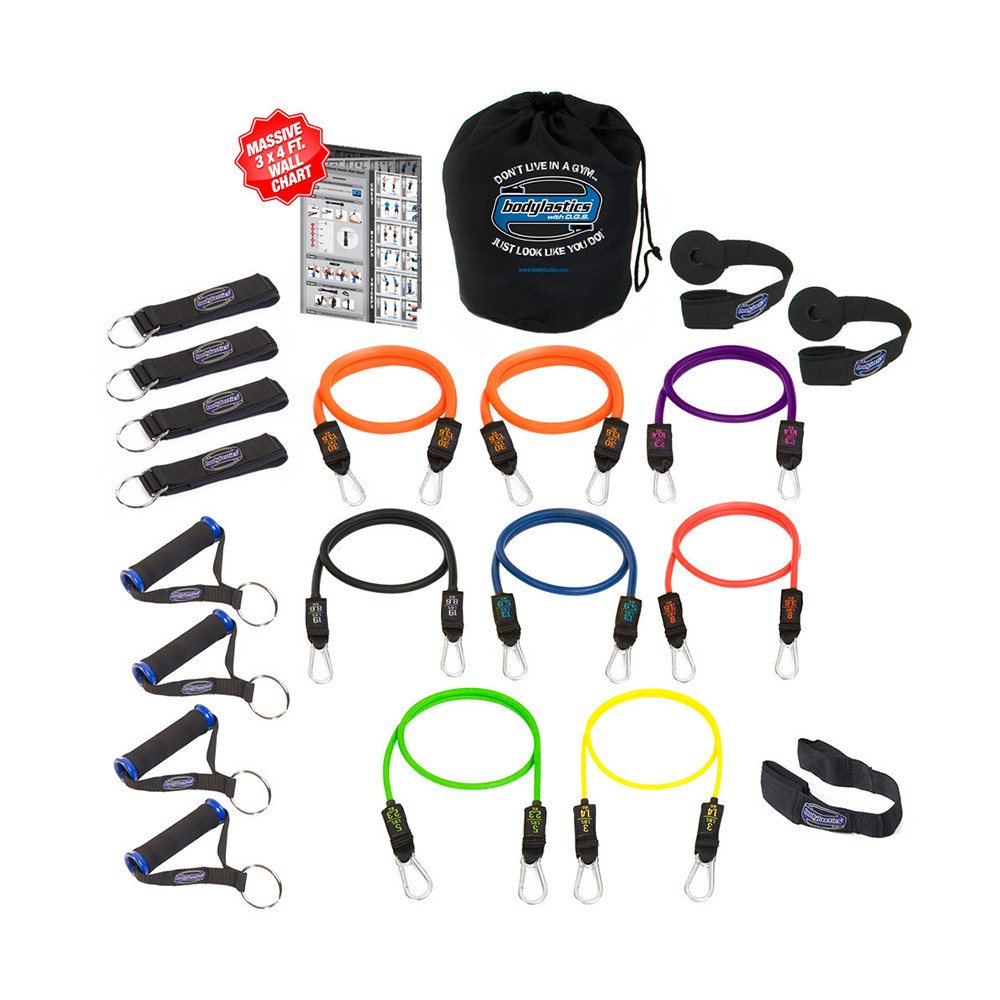 Having the Bodylastics system in our home has been a great asset and has allowed us to get in some much needed workouts. I love how easy it is to setup and use the resistance bands anywhere in our home. You can use the bands freely or use them with an anchor and get in a complete workout.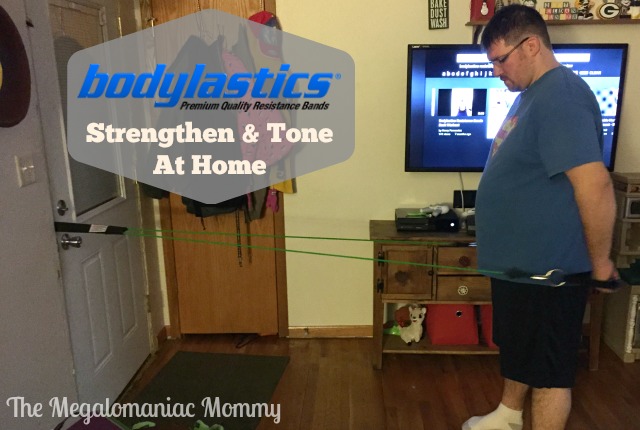 The Bodylastics Resistance Bands are a great fit for us because we can take them out when we need, easily put them away and sneak in a workout whenever it is needed, all in the comfort of our own home.
I'll admit, I have no problem going to the gym to walk on a treadmill or sit on a bike but I am still really self conscious when it comes to lifting weights or doing other workouts in front of others so being able to do this at home is a lot more comfortable for me. Not to mention, I can do it in front of the TV and watch my shows or keep the kids entertained.
Bringing Bodylastics in to our home and our life has been a great asset and we look forward to continuing our workouts together, at home.
Bodylastics offers a variety of resistance band sets, be sure to check them out and find the perfect sets for your needs.
Connect
You can connect with Bodylastics on Facebook and Twitter.
Buy It
Pick up your own set of Bodylastics resistant bands today!
The following two tabs change content below.
Anne is a 30-something full-time SAHM mom of 5 ranging from 3 to 17 and grandma of 1 who resides in Ashwaubenon (Green Bay) Wisconsin. She started blogging in 2008 as a way to regain her sanity. She enjoys coffee, chocolate, cheeseburgers and vodka along with spending time with her husband and kids.
Latest posts by Anne Younger (see all)