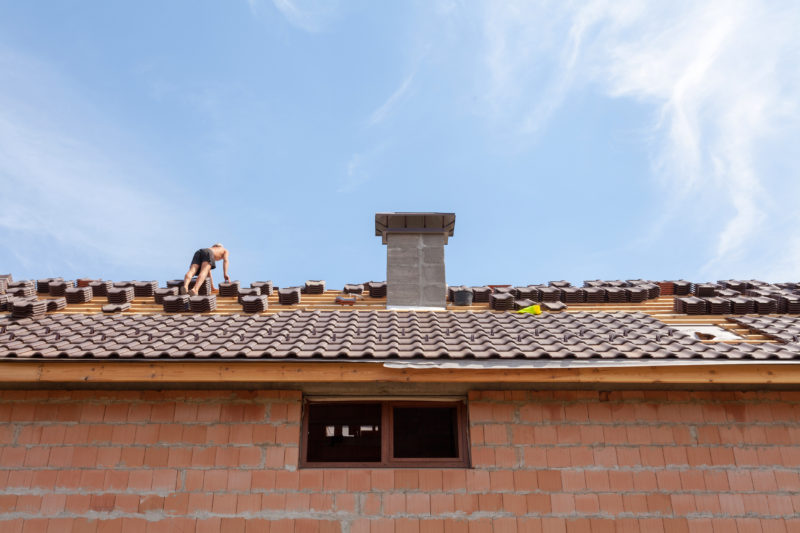 The month of February saw yet another major storm rip through the South. News reports flashed a familiar sight — homes with damaged roofs, and utter chaos everywhere. When there is harsh weather, it's important for homeowners to swing into action as soon as it passes. Not only can shingle damage but split seams and broken flashing let in water when fresh rains arrive. These can give the elements a foothold and cause spread before long. If there is damage to your roof, you need to address it as quickly as possible.
Identify the damage
Get specialists like the Wildwood Roofing and Construction to have a look. Leading roofing installation and repair contractors agree that it's best for those without training or the right safety equipment to visually inspect their roof without actually climbing up. While it's never safe to get up on a roof, an attempt can be especially risk-prone after a spell of rain when those surfaces are likely to be slippery.
It may be possible to take a look at your roof from across the street, through a pair of binoculars, or even standing up on a ladder. A walk around your attic can help, as well. Damp areas are a good indication of a leak.
While you're at it, you should look for other areas of damage. Storms can cause damage to everything from doors and windows to siding and fencing. If you can spot breakage, it's time to swing into action.
File an insurance claim
If you have home insurance, you should call right away to have an adjuster come in for an inspection. While you're on the line with the company, you should also ask for a list of approved local contractors.
What if the insurance company rejects your claim?
Insurance companies tend to be swamped after storms and can take some time sending an adjuster over. Once one arrives, you may or may not receive approval for repairs. It's a good idea to contact a contractor and ask for a professional to be present at the same time that the insurance adjuster arrives. If the adjuster dismisses your claim unfairly, the contractor can present a rebuttal, and help you win your claim.
If the adjuster still won't listen, you have the right to ask the insurance company for two more visits by different adjusters. Each time, you should make sure that you do have a contractor standing by to offer advice and alternative points of view. The contractor should also perform a thorough inspection to see if there is structural damage that isn't visible on the surface.
Prepare to get work done
Once you receive the approval, payments from the insurance company usually arrive in two installments. The first covers the cost of all the building materials needed for the job. You need to make sure that the contractor buys materials in your name, and asks you to make out checks for payment.
Once the contractor gets to work, there are no payments to make until work completes. Once damage to the roof is fixed and other structural repairs are done, the contractor arranges for an inspection by the city. When the work is signed off, you have the contractor sign a lien waiver, and then contact the insurance company for the second installment.
Remember that you get to claim on indirect damage, as well
Your home insurance policy should cover any indirect damage that occurs as a result of damage to the roof. If the damaged roof lets in water that destroys the insulation in your attic or causes other structural damage, for instance, your policy should pay for it.
Adjusters don't sign off on such compensation if you can't prove that the damage wasn't pre-existing. For this reason, it's important to periodically document the state of your home with detailed photographs. It can be hard to get coverage for damage if you aren't able to prove it.
It's important to keep your house in good repair, as well. If it's your roof that you're putting in a claim for, you should be able to show that you have not been neglectful in the area of routine maintenance. You need to be able to demonstrate that loose shingles and rusted flashing installations were regularly replaced. If you can show no proof of routine maintenance, the insurance company may attempt to take the stand that it was such neglect that made the roof vulnerable to damage.
Insurance does help protect your home. Taking advantage of your policy requires that some work is put in, however.
Brooke Flynn keeps the family home maintenance business in order by running the office. She shares her tips for homeowners on a variety of blogs/websites.
The following two tabs change content below.
Anne is a 30-something full-time SAHM mom of 5 ranging from 3 to 17 and grandma of 1 who resides in Ashwaubenon (Green Bay) Wisconsin. She started blogging in 2008 as a way to regain her sanity. She enjoys coffee, chocolate, cheeseburgers and vodka along with spending time with her husband and kids.
Latest posts by Anne Younger (see all)