When Alex and I attended the 2012 International Home & Housewares Show in Chicago in March, we had the opportunity to try out the SodaStream in home soda maker for the first time.
Visiting the SodaStream booth is also where this magical moment happened.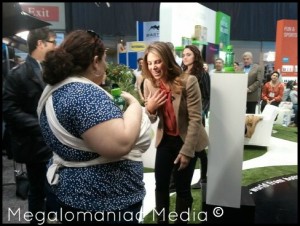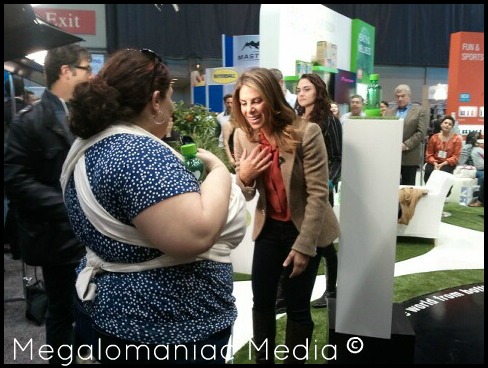 Being a HUGE fan of diet soda, I was worried that I wouldn't like the diet soda as much as I do the name brand.
I was soooooo wrong.
We have now been using a SodaStream in our house the last 5 days and everyone is hooked.
We have been using the SodaStream Fountain Jet which is the entry level model and a family-friendly global best-seller.
I have to agree, it is definitely family-friendly. The kids have already mastered making their own soda!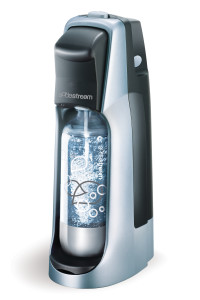 I wanted to introduce our family to the SodaStream because it is more convenient, Earth-Friendly, healthier, economical and quick and easy to use!
According to SodaStream, we drink over 40 gallons of fizzy drinks per capita each year,
and we spend about $40B annually on packaged soda. Our love affair with fizz certainly
isn't going away any time soon, but neither are all of the empty bottles and cans,
or the transport miles associated with all of those bubbles.

Switch to SodaStream and Kick the Can
**460 billion beverage cans and bottles are manufactured worldwide each year
**Recycling rates hover just under 25% nationwide
**141 billion beverage cans and bottles go to landfill each year
**It takes over 400 years for a plastic bottle to begin decomposing
**The US uses an estimated 17 million barrels of oil to produce plastic water bottles annually.
**That's enough to keep 1 million cars on the road for the entire year!
Sodamix Flavors are available in a variety of flavors ( regular flavors contain no high-fructose corn syrup and diet flavors do not contain aspartame), each bottle makes 12 liters or the equivalent of 33 – 12oz cans of soda.
SodaStream also offers Sparkling Iced Tea, MyWater Flavor Essence, Sparkling Natural, and Energy Drink.
You can purchase a SodaStream online via the SodaStream website or find them in retailers such as Target, Sears, Kohl's, Bed Bath & Beyond and more!
Visit the SodaStream website, their Facebook page, Twitter, YouTube or the Ms. Fizz Blog for more information.
Disclosure: We received a free product in exchange for our complete and honest review. All thoughts and opinions are our own.
The following two tabs change content below.
Anne is a 30-something full-time SAHM mom of 5 ranging from 3 to 17 and grandma of 1 who resides in Ashwaubenon (Green Bay) Wisconsin. She started blogging in 2008 as a way to regain her sanity. She enjoys coffee, chocolate, cheeseburgers and vodka along with spending time with her husband and kids.
Latest posts by Anne Younger (see all)