**I received a promotional item in exchange for this post. All thoughts and opinons are my own**
---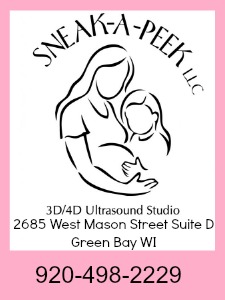 As many of you may have heard, we are expecting baby #5 this August. I am currently 19 weeks pregnant and of course, we have been waiting to find out the sex of baby #5 and don't have an ultrasound with my OB scheduled until April 12th.
When I was pregnant with Alexander back in 2007, my doctor at the time wouldn't order an ultrasound so I had to get his consent to have an ultrasound through a service out of town. It was expensive, we didn't get to see much other than gender and all in all, it wasn't a memorable experience.
On Saturday morning, the family (minus Libby) went to Sneak-A-Peek 3D/4D Ultrasound Studio here in Green Bay to learn the gender of our next family member. I had recently learned of Sneak-A-Peek's existence via another friend and on Saturday discovered they have been in business since 2010.
After our experience and learning everything Sneak-A-Peek has to offer, I am glad we found them and will definitely recommend them to friends and family.
In just 20 minutes, we discovered we are having a……
Yes, that is a boy!
This little guy will continue my pattern and leave it at boy, girl, boy, girl, and boy.
Crazy!
Although I was leaning more girl this time, mainly because we still have some girl stuff, we are both happy and all we ask for is a healthy baby!
The staff at Sneak-A-Peek were wonderful and throughout our ultrasound, the technician described everything we were seeing and I learned more at this ultrasound than any of my previous ones through 4 other pregnancies!
At first our little guy was a little stubborn and didn't want to show himself so we got to see his little face.

And his cute little foot.
This was definitely an experience we will never forget and we are looking forward to returning further in the pregnancy to see our little dude in 3D.
Sneak-A-Peek offers a variety of packages and some awesome keepsakes, including a stuffed animal with a recording of your little one's heartbeat inside. All packages include a photo of your little one, gender determination if desired and a coupon for 10% off any return visit during your current pregnancy. Packages run from $70-$190.
Connect:
You can connect with Sneak-A-Peek Ultrasound Studio on Facebook, be sure to let them know that Family Friendly Green Bay sent you!!
Thank you to Jennifer Rosin and the staff at Sneak-A-Peek Ultrasound Studio for this opportunity and getting us prepared for our little dude!
The following two tabs change content below.
Anne is a 30-something full-time SAHM mom of 5 ranging from 3 to 17 and grandma of 1 who resides in Ashwaubenon (Green Bay) Wisconsin. She started blogging in 2008 as a way to regain her sanity. She enjoys coffee, chocolate, cheeseburgers and vodka along with spending time with her husband and kids.