When Alexander broke his collarbone this past summer he was stuck inside and left to play with a bucket of Legos and get creative. Since then, he has become somewhat obsessed with Legos and has reintroduced both Alex and Zack to Legos as well and they have all been spending time building things together.
As a way to encourage them to continue this bond and show them that Legos aren't just for little kids, I turned to SillyBrickPics for some of their awesome Lego inspired photography, for a few gifts this holiday season.

SillyBrickPics™ is a family owned business, located in Long Island, NY that has combined their love of the LEGO® brand building toys and their years of experience with photography, to create a very special kind of product.
If you are looking for a unique gift that ties humor, nostalgia and pop culture together while still bringing out your inner child, then SillyBrickPics is the place to look.
Zack is a HUGE Breaking Bad fan so we decided this print from SillyBrickPics would be a great gift for him this year.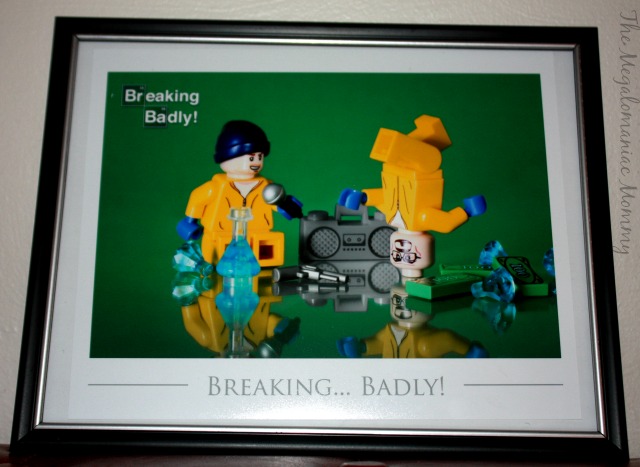 We also picked out a print featuring The Walking Dead for Zack along with this Lego Movie print for Alexander because…..Everything Is Awesome!
Each of these pictures is unique and is something you will only find at SillyBrickPics. For now, our pictures are framed and are hanging out, waiting for our playroom/family room in the basement to be constructed this winter and then they will be on the walls.
SillyBrickPics offers titled prints like ours as well as giant sized posters and phone cases featuring their prints. They also offer pictures featuring scenes from Star Wars along with super hero prints.
I love the creativity behind these photos and think they make great gifts for Lego fans.
You can get your own prints from SillyBrickPics for as low as $12.00
The following two tabs change content below.
Anne is a 30-something full-time SAHM mom of 5 ranging from 3 to 17 and grandma of 1 who resides in Ashwaubenon (Green Bay) Wisconsin. She started blogging in 2008 as a way to regain her sanity. She enjoys coffee, chocolate, cheeseburgers and vodka along with spending time with her husband and kids.