Just about everyday since Zack & Libby could talk all I ever hear is, "Mom, he won't leave me alone". Or, "Mom, she took my toy". They have been at each other's throats for almost 9 years now. Sometimes they can be the best of friends and then they want nothing to do with each other. Well….today….they wanted NOTHING to do with each other—–so imagine my surprise when the Libby asked if Zack could sleep in her bed with her tonight.
Now…..we all know how my night of sleeping with the Libby turned out, so I was curious earlier and went in to check on them and had to snap a few pics. The Libby also has a queen size bed. They are both so skinny that they can sleep in a twin bed together. But you know how that little Libby is…..bed hog extraordinaire!!!
Below are my findings: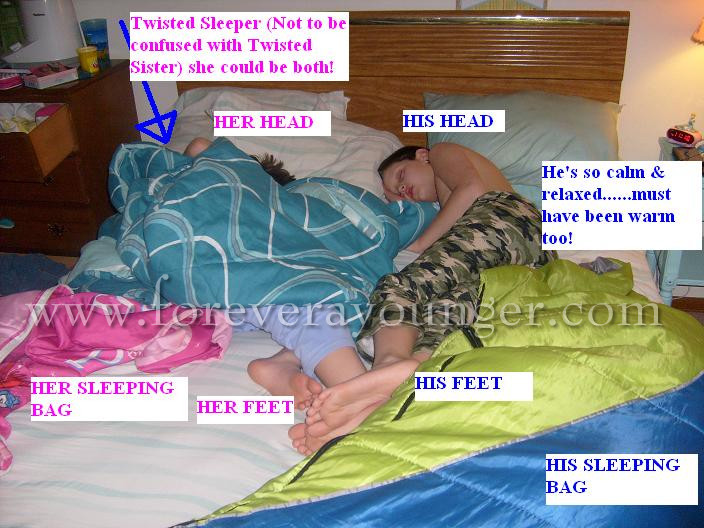 I do have a few more things to say about this picture…how could I not! First, I don't understand why they feel that they need to have not only the Libby's everyday bedding but then add their sleeping bags into it. (Ok….I can understand why Zack has his…..the bed hog extraordinaire is also the blanket hog). But I never get why Zack always has his blankets/sleeping bag with him but never uses it! I would also like to know why the only parts of my daughter that are ever visible when she sleeps are the top of her head (so you can see a lil hair) and her feet.
But this is my kids tonight after hearing all day long that one didn't want to be near the other!
The following two tabs change content below.
Anne is a 30-something full-time SAHM mom of 5 ranging from 3 to 17 and grandma of 1 who resides in Ashwaubenon (Green Bay) Wisconsin. She started blogging in 2008 as a way to regain her sanity. She enjoys coffee, chocolate, cheeseburgers and vodka along with spending time with her husband and kids.
Latest posts by Anne Younger (see all)