*This post is made possible by Shutterfly. I received a promotional item for participating in this campaign. All thoughts and opinions are my own. This post may contain affiliate links.*
It's hard to believe that the holidays are right around the corner. As you know, things in our house have been crazy busy with the new baby so I have been doing my best to get a jumpstart on everything we need done between now and Christmas. Lists have been made and checked twice, items have been either purchased or placed on layaway, plans have been made and the calender is marked. The only thing I really have left to do if find and create our holiday cards.
Choosing a holiday card to send out to all of our family and friends is never an easy thing for me to do. I love sending and receiving cards that have pictures and now that we have a new family member, I am looking forward to another photo card.
You know what is really hard to do when you have 5 kids?
Finding a holiday card that has enough space to include a picture or two of each kid.
Thanks to Shutterfly and their 2013 holiday card collection I've already started looking for a design that I like and as of right now it has come down to these 5 choices: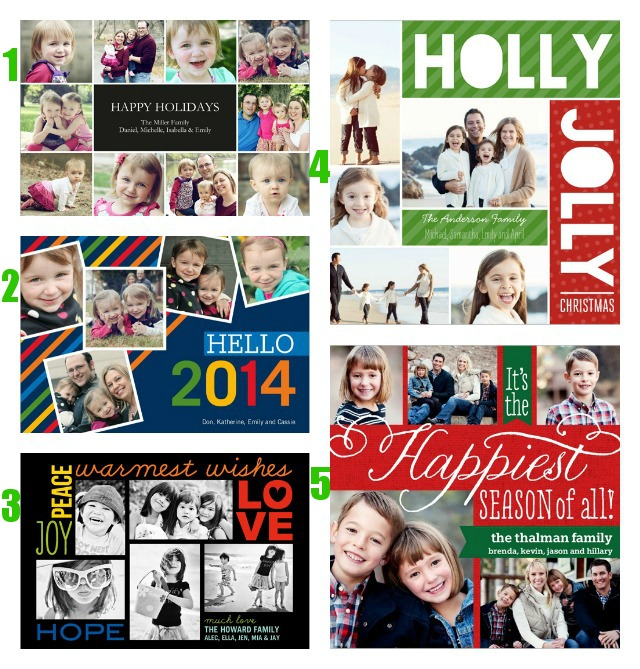 The Shutterfly 2013 holiday card collection has new card designs to offer including 5×7 folded tri fold & back of card designs
**Classic: Traditional colors, iconic illustrations, aspirational sentiments, snowflakes, monogram
**Contemporary: trend forward colors, texture and layering, water color techniques, shine, glitter, Instagram pictures are perfect for this style
**Whimsy: humor and nostalgia meet, fun sentiments
**Merry and Bright: all about color and having fun
**Religious: metallic type treatments, incorporated story ideas
**Photo Basics: multiple colors, vertical type, family name highlights

There are just so many choices this season I might have to pick 2 and mix it up, that might make it easier to decide which pictures to use too!
In addition to great holiday photocards, Shutterfly has some great holiday photo gifts too! Check out these great ornament designs (I'm think these would make great gifts for grandparents).

You can learn more about the new card and gifts collection at the Shutterfly Pinterest #PhotosYouLove Party on October 16 at 8 PM ET hosted by @ResourcefulMom. Be sure to RSVP and mark your calender today!
Connect:
You can connect with Shutterfly onFacebook and Twitter.
The following two tabs change content below.
Anne is a 30-something full-time SAHM mom of 5 ranging from 3 to 17 and grandma of 1 who resides in Ashwaubenon (Green Bay) Wisconsin. She started blogging in 2008 as a way to regain her sanity. She enjoys coffee, chocolate, cheeseburgers and vodka along with spending time with her husband and kids.