I know I have mentioned multiple times in the past that I am a big fan of Shutterfly and the different products they offer. I love to use their service when ordering picture prints, personalized photo gifts, photobooks, and our annual holiday cards and I've been a customer for years.

This year, we were given the opportunity to check out some of Shutterfly's new products and gift ideas just in time for the holidays and I am very excited to share them with you.
Holiday Cards
Shutterfly has so many designs to choose from when it comes to shopping for a holiday card, I had a hard time deciding which one to go with. Since we are a large family, I knew I wanted to do something that including pictures of each of the kids.
This year, after searching through the choices, I decided on the Winter Snowflake Wishes 6 x 8 cards and I couldn't be happier with my decision.
I cannot wait for our friends and family to get these in the mail and I hope they like them as much as I do.
Photo Books
Another thing I love about Shutterfly is their photo books and how easy it is to create them online. From custom layouts to being able to journal throughout the pages, not only do photo books make good keepsakes, they make fabulous gifts too. Every year, I create a photo book looking back at the year for Alex's grandma so she can show of her great grandbabies to all of her church friends. Without revealing too much, here is the cover of our book this year.
The book turned out great and I know his grandma is just going to love it and it will look great with her growing collection.
Ornaments
This year I thought I would try something new and check out Shutterfly's collection of personalized metal photo ornaments. As my parents and in-laws get older, finding gifts for them is getting difficult. Seriously, what do you get for someone when they pretty much have everything that they want?
I decided that starting this Christmas, I will be creating photo ornaments to give them as gifts from now on. I think it will be a neat way to watch the kids grow over the years and see how much they all change.

I am very pleased with how the ornaments turned out and am looking forward to giving them to our parents.
Canvas Prints
If you are looking for a creative gift to give someone, consider a canvas print. I have been wanting something that I could display that had all of the kids pictures on it when they were little as well as incorporate Alex and I in to it. When I stumbled upon the All You Need Is Love canvas, I knew it would be perfect!
This 10 x 14 canvas couldn't have turned out better. The pictures, even the ones that are scanned in copies of Zack and Libby, printed so well on the canvas.
Christmas Stockings
Since Joey was born, I've wanted to get new, personalized, coordinating Christmas stockings for the entire family. After browsing Shutterfly's collection, I decided to go with the Festive Sweater Christmas Stockings because I just loved the look of them, how simple they are, and the attention to detail.
With these stockings, you can customize each one with photos and text on front. I opted to keep it simple with names and year of birth.
Each stocking features a velvet cuff and cord trim, measures 16″ in length with a 6″ opening and is available in a range of colors.
Overall, I am beyond happy with each item I received from Shutterfly. After all of these years, I have yet to be disappointed!
Shop & Save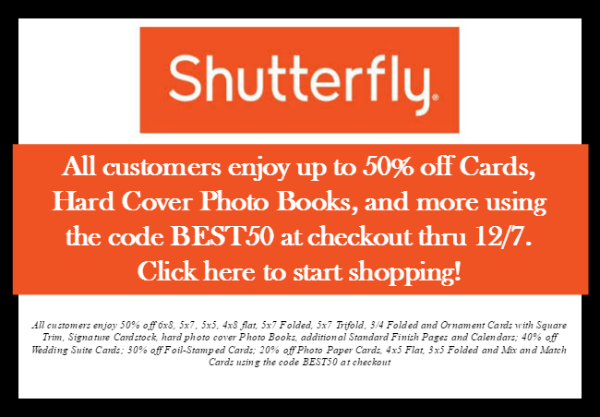 The following two tabs change content below.
Anne is a 30-something full-time SAHM mom of 5 ranging from 3 to 17 and grandma of 1 who resides in Ashwaubenon (Green Bay) Wisconsin. She started blogging in 2008 as a way to regain her sanity. She enjoys coffee, chocolate, cheeseburgers and vodka along with spending time with her husband and kids.
Latest posts by Anne Younger (see all)