Over the last few weeks, Joey has become obsessed with a certain furry little red dude….yes, that one.
Elmo is his new favorite thing and he loves to watch him on PBS, on YouTube and anywhere he can. I thinks it is absolutely adorable when he says Elmo so I'm happy to watch it whenever he wants.
Suprisingly, we don't have a lot of Elmo videos in our movie library so we are slowly adding some in. I'm really excited because we just added Sesame Street: Elmo The Musical 2: Learn and Imagine to our library and Joey can't get enough of it.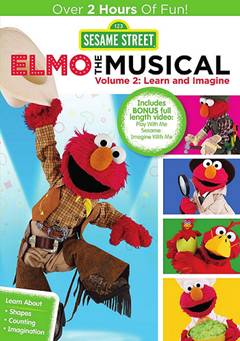 Your favorite furry red monster is ready to sing and dance as Warner Bros. Home Entertainment and Sesame Workshop, the nonprofit educational organization, release Sesame Street: Elmo The Musical Volume 2 on DVD and digital on May 5, 2015 for $14.98 SRP. With over two hours of fun in seven all-new episodes, Sesame Street fans young and old will love to interact with Elmo during his explorations!
In Sesame Street: Elmo the Musical Volume 2: Imagine and Learn, kids will sing, dance, play and imagine along with Elmo on math-filled adventures! They'll join Elmo as he becomes a cowboy in his musical "The Count-by-Two Kid," and escorts six kitty-cows through a canyon to the Double Double Dude Dude Ranch Ranch. Next, they'll don a detective hat with Elmo to help investigate the secret behind all the sneezing. An extension of Sesame Street's STEAM curriculum (science, technology, engineering, arts and math), each episode is an interactive, fun-filled musical adventure created by Elmo and the child at home. Focusing on imagination and math skills, such as enumeration, relational concepts, addition/subtraction, geometric shapes and many more, Elmo takes viewers on thrilling explorations as he imagines himself in many adventures. This DVD also includes bonus full-length video of Play With Me Sesame: Imagine With Me, which focuses on imagination and interactive learning.
Of course, I wasn't surprised that this has quickly become one of Joey's favorite videos since he wants to watch Elmo morning, noon and night so it's been a blessing to have some new stuff for him to watch and to save my sanity!
Be sure to get your copy of Sesame Street: Elmo the Musical Volume 2: Imagine and Learn, in a store near!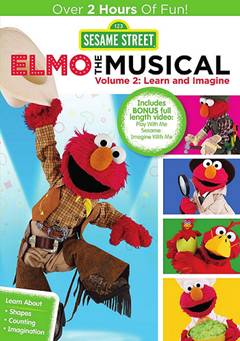 The following two tabs change content below.
Anne is a 30-something full-time SAHM mom of 5 ranging from 3 to 17 and grandma of 1 who resides in Ashwaubenon (Green Bay) Wisconsin. She started blogging in 2008 as a way to regain her sanity. She enjoys coffee, chocolate, cheeseburgers and vodka along with spending time with her husband and kids.