Next month, our little Joey will be celebrating his 2nd birthday. He may be just shy of 2 but this kid continues to amaze me every day. He is always spitting out new words and learning new things. It is crazy just how quickly he grasps things.
I know I've mentioned it a few times but in case you've missed it, Joey is a big fan of Sesame Street, especially Elmo. He loves watching the show so much and he learns a lot from it as well. We've been working on numbers with him since he likes to repeat what he hears and what better way for him to work on his counting then with his favorite red furry friend!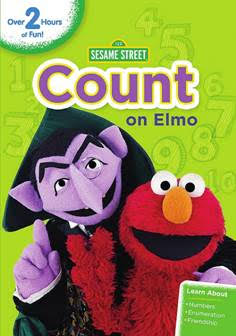 Sesame Street: Count on Elmo
Kids can rely on their Sesame Street friends for lots of fun, laughs and counting in Sesame Street: Count on Elmo. When the Noble Counting Prize committee is looking for the World's Greatest Counter, Elmo knows that his friend The Count is perfect for the prize. Elmo, Grover, Abby and Cookie Monster try and capture The Count's amazing counting skills on camera so they can enter him in the contest, but everything goes awry! Will The Count win the prize or will it be a Count-astrophe? Kids will learn about friendship and math concepts such as numbers, counting, and enumeration. With over 2 hours full of friendship and fun, kids will really enjoy counting along. Featuring the new song "Count on Friends," this DVD also includes the bonus video Pre-School is Cool: ABC's With Elmo.

Sesame Street: Count on Elmo arrived at our house today and it's all Joey has been watching since it showed up at our door. I wouldn't be surprised if he's got his counting down cold in a week.
Get Your Copy
You can get your copy of Sesame Street: Count on Elmo below!
The following two tabs change content below.
Anne is a 30-something full-time SAHM mom of 5 ranging from 3 to 17 and grandma of 1 who resides in Ashwaubenon (Green Bay) Wisconsin. She started blogging in 2008 as a way to regain her sanity. She enjoys coffee, chocolate, cheeseburgers and vodka along with spending time with her husband and kids.