One thing my children have bonded over through the years is television and movies. There are so many shows that were around when I was a kid that made a comeback when Zack and Libby were little kids and are now making a comeback once again now that I have the 3 little ones.
There is one show, one character that they have all managed to fall in love with and that is Scooby-Doo. We've managed to watch all of the episodes on Netflix recently, (including 15 year old Zack who watching it alone over the last few months) and the kids are always excited when they hear there is a new Scooby movie.
Thanks to our friends at Warner Brothers Animation, we had the chance to check out Scooby-Doo! Moon Monster Madness this past week, and it couldn't have arrived at a better time!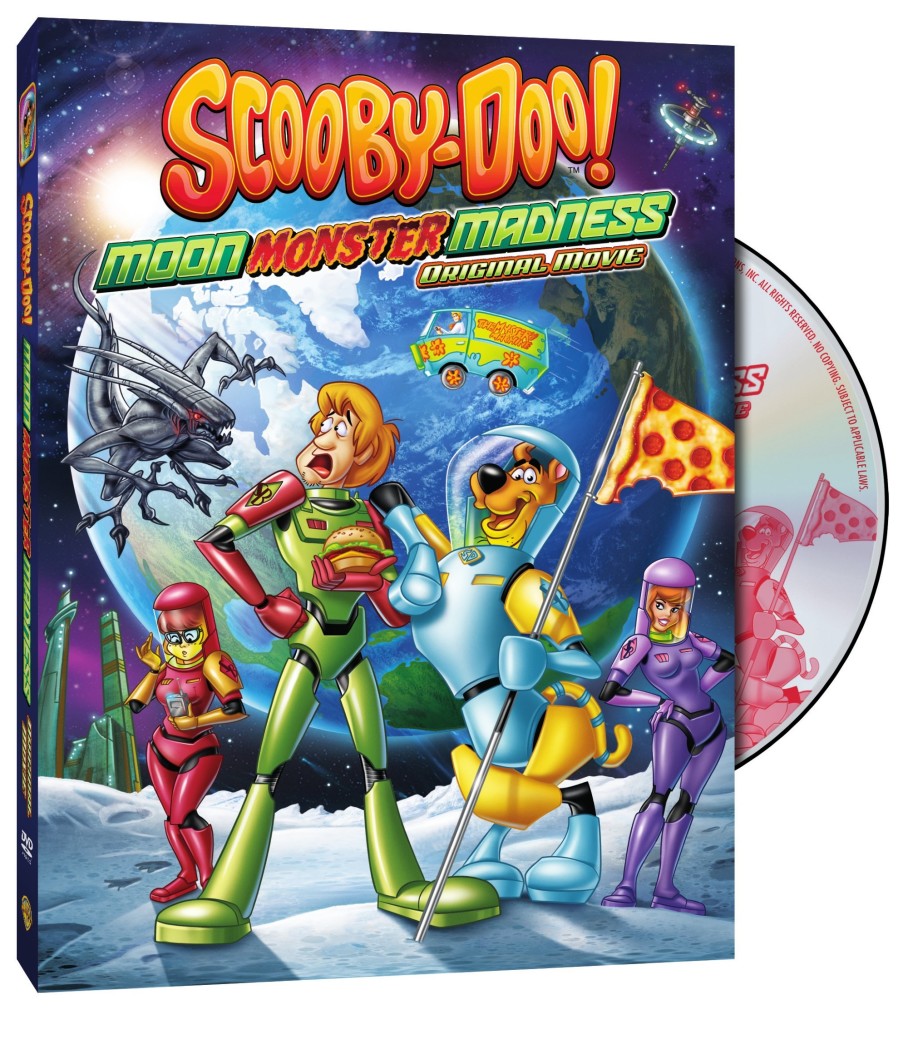 Get ready for some hilarious high jinks in outer space with Scooby-Doo! The lovable Great Dane is on a mission to deliver big laughs as he and the Mystery Incorporated gang take off on a super stellar adventure in Scooby-Doo! Moon Monster Madness, available in stores February 17, 2015.
It's one giant step for dog-kind as Scooby-Doo and the gang blast off for an epic journey into outer space in this must-own, original, new film! After winning the last five seats in a lottery, Scooby-Doo, Shaggy, Fred, Daphne and Velma are off to space in billionaire Sly Barron's brand new ship, the Sly Star One, a space tourism vessel setting off on its inaugural voyage. It's all gravity-free fun until a mysterious alien begins to destroy the ship! As the vessel breaks down, the crew is forced to land on Sly Baron's base – located on the dark side of the moon! Will the gang unravel this alien mystery? Will Scooby and Shaggy find snacks on the moon? Fans will want to hop on board, fasten their seat belts and journey to the outer limits with Scooby-Doo to find out!
We've already managed to watch this flick a handful of times and it has definitely become one of Ellie's favorite movies…she's a HUGE Velma fan.
You can grab your copy of Scooby-Doo Moon Monster Madness in stores 2/17 or pre-order your copy today.

Related articles across the web
The following two tabs change content below.
Anne is a 30-something full-time SAHM mom of 5 ranging from 3 to 17 and grandma of 1 who resides in Ashwaubenon (Green Bay) Wisconsin. She started blogging in 2008 as a way to regain her sanity. She enjoys coffee, chocolate, cheeseburgers and vodka along with spending time with her husband and kids.
Latest posts by Anne Younger (see all)