**For better viewing, click on pictures throughout this post to enlarge them.**
---
As you may have heard, I just returned from a trip to beautiful Los Angeles California in which I stayed at the Beverly Wilshire Hotel on Wilshire Blvd in Beverly Hills.
Yes me, in Beverly Hills.
I was in the 90210!
I was invited by the fabulous folks at Disney to visit and attend the 'green grass' premiere of The Lion King 3D at the El Capitan Theater in Hollywood and a first hand look at how the movie came to be.
Upon arriving in Los Angeles, I experienced something I had only seen in the movies until that day.
As I was heading down the escalator at LAX to the baggage claim area, there stood a man in a suit holding a sign that said Ms. Younger.
Here I had been expecting to find a few of the other moms and we would be climbing into a shuttle van together to take us to the hotel.
Nope.
I had my own driver and Lincoln Town car.
After retrieving my suit case, we headed to the car and made our way to the hotel.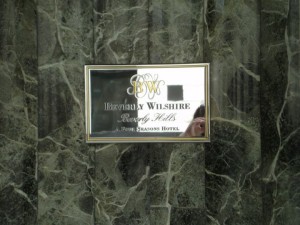 Pulling up to the valet area at the hotel was a surreal moment especially since my favorite movie is Pretty Woman. Here I was a lowly girl from Wisconsin, stepping out of a Lincoln Town Car in a tank, capris and flip flops surrounded by people wearing $700 shoes and driving $50,000 cars.
I was immediately greeted by a gentleman who whisked my luggage away and then another escorted me to the front desk to check-in. I could not believe my eyes when I walked into the lobby of the hotel.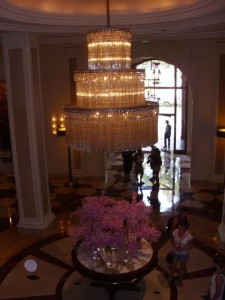 Of course, I didn't have my fancy camera with me because I didn't want more stuff to lug around….lesson learned, if I go back– the Canon Rebel goes with!!
Everyone working at the hotel was so nice and made sure that I had a wonderful experience, right down to offering me a bottle of water every time I passed by someone.
After getting checked in, I made my way over to the Beverly Tower to locate my room, #665.
Of course, the room took my breath away the minute I walked through the door.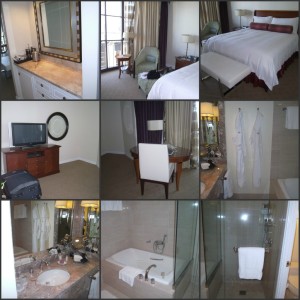 The room was stunning and offered so much, right down to a very expensive minibar. By expensive, I am talking $5.00 for an 8.5oz bottle of Diet Coke expensive!
For the remainder of the night, I decided to relax. After flying from Green Bay to Minneapolis and then to Los Angeles, my pregnant body was exhausted, sore and unbelievably swollen. I ordered dinner from room service and enjoyed the beautiful tub before calling it a night and getting some rest.


Stop by for more about my trip tomorrow!
**A special thank you to the folks at Disney and Click Communications for this opportunity. All transportation, meals and hotel expenses were covered by Disney.**
The following two tabs change content below.
Anne is a 30-something full-time SAHM mom of 5 ranging from 3 to 17 and grandma of 1 who resides in Ashwaubenon (Green Bay) Wisconsin. She started blogging in 2008 as a way to regain her sanity. She enjoys coffee, chocolate, cheeseburgers and vodka along with spending time with her husband and kids.