I have always loved fairy tales and watching them unfold in movies has always been something I've enjoyed. Of all of the Princess themed movies out the there that are NOT animated, there are very few that I like, but one collection I have always enjoyed is The Princess Diaries.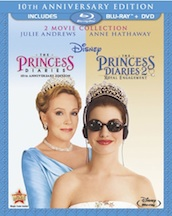 Seriously, who doesn't love a little Julie Andrews?
And then throw in some Anne Hathaway too.
Mix in some Disney Princess magic and BAM!
You get The Princess Diaries and The Princess Diaries 2: The Royal Engagement collection in one convenient package on Blu-ray and DVD!
Hollywood royals Julie Andrews and Anne Hathaway deliver comedic and enchanting performances as Queen Clarisse Rendaldi and Princess Mia. Bonus material includes a 'Find Your Inner Princess' personality quiz & deleted scenes introduced by director Gary Marshall!
If you are new to The Princess Diaries Collection here is a little info:
The Princess Diaries Film Synopsis:
Mia Thermopolis is the average teenager – sweet, a little geeky and pretty much invisible to everyone with theexception of her mother, best friend Lilly and Lilly's older brother Michael. Making it through high school without throwing up is a challenge in itself for Mia, so it doesn't come as welcome news when her estranged grandmother shows up out of the blue and calmly informs her that she is in fact the heir to the throne of a European country called Genovia. Suddenly Mia's life is thrown into complete overload. She's being taught about scarves, waves and pears in order to become a perfect princess, she gets a makeover and a tough looking yet sweet bodyguard/limo driver called Joe. Things get out of hand when the media gets a hold of the story and suddenly Mia is thrust into the spotlight in both thenewspapers and in school. On top of all that Mia has a choice to make. She must decide by Genovia's Independence Day Ball whether she longs to relinquish her claim on the throne or to become the princess and heir to the throne and father and grandmother want her to be.
The Princess Diaries 2 Film Synopsis:
Starring the irresistible Anne Hathaway and Academy Award winner Julie Andrews (Best Actress, Mary Poppins), this modern-day fairy tale picks up right where The Princess Diaries left off! As future queen of Genovia, Princess Mia (Hathaway) has everything a girl could want – except the magical romance she's always dreamed of. But soon, Mia's shocked to discover that she needs to get married right now or her family will lose the crown! Comic complications rule the day in this delightful family story about finding out who you really are and discovering what it takes to make your dreams come true!
This collection is packed with bonus features as well!
Princess Diaries Bonus Features:
-Outtakes and Bloopers
-"A New Princess" Behind-The-Scenes Featurette
-8 Deleted Scenes – Introduced By Director Garry Marshall
-"The Ultimate Tea Party" – With Audio Commentary By Julie Andrews And Anne Hathaway
-Music Videos
-Livin' Like A Princess
Princess Diaries 2 Bonus Features:
-Royal Bloopers
-The PD2 Makeover
-Deleted Scenes – Introduced By Director Garry Marshall
-"Breakaway" Music Video – By Kelly Clarkson
-Find Your Inner Princess – A Personality Quiz
-A Julie and Garry Commentary
As for the Princess in our house, she really enjoyed finding her inner princess and rocking out to the music videos.
You can relive all the magic and excitement of these two beloved favorites or experience them for the first time on this 3-Disc Combo Pack, which includes a DVD of each film. Share the laughter and the love for the first time on Disney Blu-ray. Be sure to pick it up today and add it to your collection before it is too late!
Disclosure: I received a promotional copy of this film for review purposes. All thoughts and opinions are my own. This post does contain an affiliate link.
The following two tabs change content below.
Anne is a 30-something full-time SAHM mom of 5 ranging from 3 to 17 and grandma of 1 who resides in Ashwaubenon (Green Bay) Wisconsin. She started blogging in 2008 as a way to regain her sanity. She enjoys coffee, chocolate, cheeseburgers and vodka along with spending time with her husband and kids.