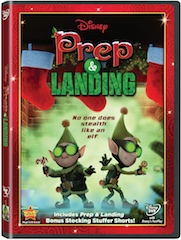 Every year, no matter what holiday it is, I find myself recording those cute little kid shows and movies that are themed just for that holiday. Even though we have seen each of them at least 10 times, there I am, every year, hitting record.
When Winter rolls around and we start getting ready for Christmas, I always get excited to watch those classic kids Christmas shows with my children but I also like to indulge in the new ones as well. One of the new kids Christmas movies that we have enjoyed the last few years is Disney's Prep & Landing and we have now added it to our home holiday movie collection.
Prep & Landing is an adorable holiday story about a high-tech team of elves who ensure homes around the world are properly prepared for their visit from Santa. After working for a tireless 227 years, an elf named Wayne (voiced by Dave Foley) is upset when he doesn't receive an expected promotion. Instead he is partnered with an idealistic rookie elf named Lanny (voiced by Derek Richardson) to execute a special Christmas Eve mission. While on their journey, Wayne and Lanny encounter unexpected challenges that push them to their limits and ultimately threaten Christmas for children around the world. But in the end, these two elves work together to guide Santa through a raging snowstorm in order to save Christmas.
The great thing about this film is that the DVD includes two new animated shorts:
*"Tiny's Big Adventure" – The assistant to the North Pole Christmas Eve Command Center is trying to make a pot of coffee and in the process, accidentally ruins the elves' break room
* "Operation Secret Santa" – Lead elves Lanny and Wayne are sent on a special assignment by Mrs. Clause (voice of Betty White) into Santa's office
And more bonus features including:
Prep & Landing Kringle Academy Training Videos – Entertaining Elf training videos shot in Santa's workshop
– Elfdate.com/The Fruitcake Factory/Spa Navidad
– Welcome to Kringle Academy
– Kringle Academy Equipment Training
– Academy Do's and Don'ts
If you aren't familiar with Prep & Landing, check out the trailer below!
Disclaimer: This promotion was based on using information provided by Walt Disney Studios Motion Pictures. Walt Disney Studios Motion Pictures does not represent or warrant the accuracy of any statements or product claims made here, nor does it endorse any opinions expressed within this blogsite. The opinions stated from me are 100% mine and they are my true thoughts on this film.
The following two tabs change content below.
Anne is a 30-something full-time SAHM mom of 5 ranging from 3 to 17 and grandma of 1 who resides in Ashwaubenon (Green Bay) Wisconsin. She started blogging in 2008 as a way to regain her sanity. She enjoys coffee, chocolate, cheeseburgers and vodka along with spending time with her husband and kids.