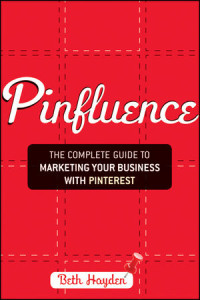 I, like many others, jumped on the Pinterest bandwagon when it first launched, and I remember being so excited to have received an invite.
After I registered, I admit, I didn't use it for a long time because, honestly, I just didn't get it. What did I need virtual bulletin boards for? It really didn't make any sense to me.
Then things changed.
I got pregnant and I kept finding all of these great things I wanted to get for the baby.
So, I took the time to figure our Pinterest and was turned into an instant addict!
Also, like many others before me, once I got the hang of Pinterest I wanted to learn how to use it to better my business like I was seeing so many others do.
Enter Pinfluence: The Complete Guide to Marketing Your Business with Pinterest by Beth Hayden.
Um, hello!
A book that can teach me how to do something I have been trying to figure out for months!
This book teaches you how to create a powerful Pinterest profile, your Pinterest Brand Strategy, set up boards, pin and repin images, and get into conversations within Pinterest. It also offers valuable marketing techniques on how create great content and optimize websites and blogs for pinning and soooo much more!
So far, I have applied a few techniques and I have seen a difference. Once I get a little more free time, I am hoping to really get into it and grow my brand and network using Pinterest.
Disclosure: I received a copy of this book at no cost to me in order to facilitate this review. All thoughts and opinions are my own.
The following two tabs change content below.
Anne is a 30-something full-time SAHM mom of 5 ranging from 3 to 17 and grandma of 1 who resides in Ashwaubenon (Green Bay) Wisconsin. She started blogging in 2008 as a way to regain her sanity. She enjoys coffee, chocolate, cheeseburgers and vodka along with spending time with her husband and kids.