For me, October is the beginning of the crazy holiday season. First comes Halloween, then Thanksgiving and then December is just jam packed with holiday celebrations. This time of year is when I love to craft and create with the kids and also entertain guests. With Halloween fast approaching, I felt it was only appropriate to create a fun Halloween treat for us to enjoy, so off to Pick 'n Save we went!

I was very pleased to find that Pick 'n Save had a very large selection of items and most of the items I needed were on display at the front of the store, making my trip easier than I had expected, and with two little kids in tow, I was especially thankful! Pick 'n Save wants to provide their customers with a superior shopping experience and high quality products including fresh meats and produce. Thanks to their 'new every day' philosophy, I was happy to find some beautiful fresh apples to use in my Halloween treat as well! As a mom, it makes me happy to know there is a store I can shop at that offers my family the best selection of fresh ingredients available!

Thankfully before we left for the store I remembered to add the available loadable coupons to my Fresh Perks Card so I could take advantage of the savings!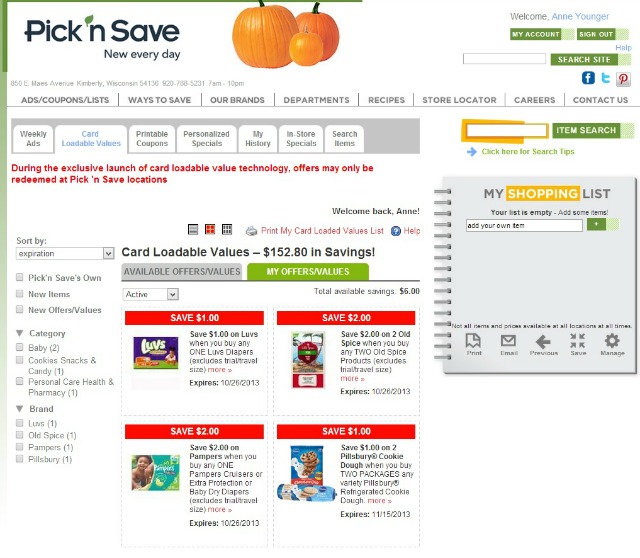 In addition to the in-store savings from using my Fresh Perks Card, I was also able to save some extra money by taking advantage of the new Loadable Coupons Feature. This feature is simple to use, simply create an account at PicknSave.com, link your Fresh Perks card to it using the number on the back of your card and then visit the Card Loadable Values section and begin adding coupons to your card. Just be sure to use your Fresh Perks card at the checkout and watch your coupons come off at checkout! You can also save money shopping at Pick 'n Save by taking advantage of their Fresh Perks program, purchasing the Roundy's brand, and shopping for items that are price locked, meaning they remain the same price for 77 days!!!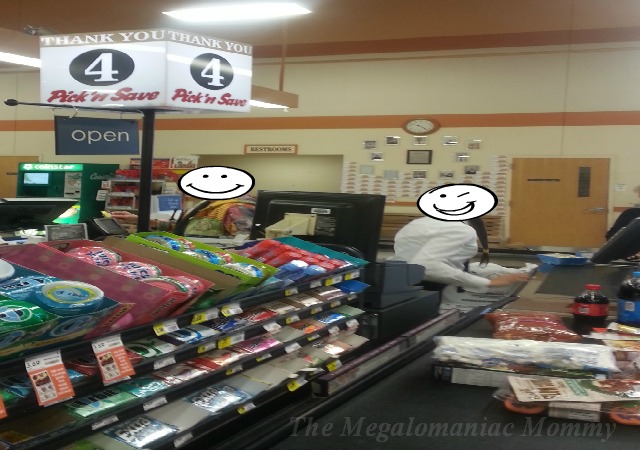 After we gathered all of our items, we made our way to the checkout to wrap up our trip so we could make our way home to create our delicious treat, the Cobweb Cookie!
For those readers who live in Wisconsin, if you have yet to visit a Pick 'n Save store, now is the time! Pick 'n Save recently rebranded 69 locations in the Milwaukee area as well.
Connect:
You can now connect with Pick 'n Save on Facebook, Twitter and Pinterest.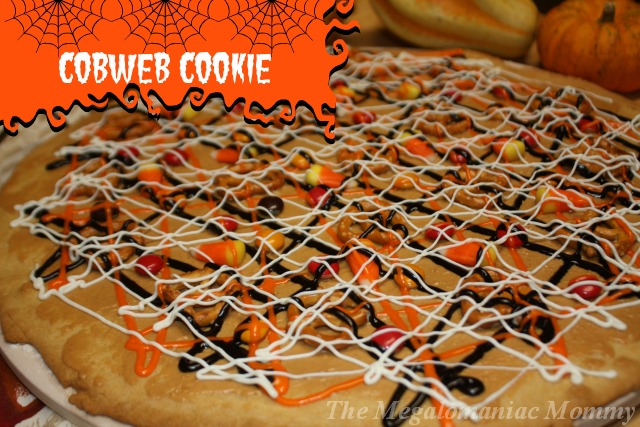 To create this delicious masterpiece, you will need:
Ingredients
– 1 tube of sugar cookie dough
– 1 apple diced
– 1/3 c creamy peanut butter
– 15-20 pretzel twists
– 1 bag of M&M's
– 1 bag of candy corn
– 1 cup of white chocolate chips
– 3 tbsp orange frosting
– 3 tbsp black frosting
Directions:
1. Roll out cookie dough on a pizza pan, pizza stone or other pan of choice. (I used a greased pizza stone).
2. Bake cookie dough at 350* for 12-15 minutes and remove from over.
3. While cookie is baking, mix the diced apples with the peanut butter until it is mixed well.
4. After removing cookie from oven, spread apple peanut butter mixture onto cookie allowing it to melt and spread easier this becomes the glue for the goodies!).
5. Once apple peanut butter mixture is on, place pretzels, candy corn and M&M's however you would like on the cookie.
6. Take your 3 tbsp of orange frosting and place it in a ziploc bag, cut a small hole in the corner and pipe frosting on in desired pattern. Repeat this step with the black frosting.
7. After frosting is on, melt the white chocolate chips in the microwave following instructions on the back of the package. Once melted, place white chocolate in a ziploc bag, cut a small hole in the corner and pipe chocolate on in the desired pattern.
8. Allow the cookie to cool and frosting/chocolate to harden and then cut and serve!
Enjoy!!
Everyone in our house really enjoyed this treat and the kids are already asking me to make it again!
The following two tabs change content below.
Anne is a 30-something full-time SAHM mom of 5 ranging from 3 to 17 and grandma of 1 who resides in Ashwaubenon (Green Bay) Wisconsin. She started blogging in 2008 as a way to regain her sanity. She enjoys coffee, chocolate, cheeseburgers and vodka along with spending time with her husband and kids.
Latest posts by Anne Younger (see all)