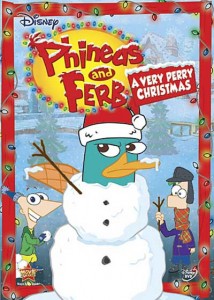 On October 5th, Walt Disney Studios Home Entertainment released Phineas and Ferb – A Very Perry Christmas.
Now my kids, all 3 of them, are big fans of Phineas and Ferb – it's one of the reasons we subscribe to Disney on Demand.
Even my husband enjoys watching this show.
Now me, I've never been a real fan.
But, that has changed.
This Christmas episode was actually very funny and heartwarming.
I snuggled up with the Alexander while the other two kids sprawled out on the couch earlier this evening since the Alex had to work 2nd shift tonight instead of 3rd.
I am proud to say I watched and loved every minute of it.
The story line was adorable.
The songs were cute.
And well, Phineas and Ferb and their crazy hair brained ideas made me laugh.
Here's a sneak peek of the show:

Oh, and those songs I mentioned….here's a little sampling.

The disc also offers some cool special features like Dr. D's Xmas Jukebox-Inator which highlights your favorite songs from the show. Then there is Christmas Perriy-Oki which allows the whole family to go Christmas Caroling with Perry. Next, you can check out Letters to Santa and find out what your favorite character asked Santa for. My personal favorite item was on Buford's list.
That's just a glimpse at the bonus features not to mention the disc also contains a bonus episode – 'Doof Side of the Moon".
Oh, not to mention, there is a sweet little surprise gift from Santa inside….you'll have to buy it to find out!
As an added bonus, here is an activity page and a coloring page for your kids.
Phineas and Ferb Coloring Book
Phineas and Ferb Activity Sheet
Enjoy!
Disclaimer: This promotion was based on using a complimentary product provided by Walt Disney Studios Motion Pictures. Walt Disney Studios Motion Pictures doesn't represent or warrant the accuracy of any statements or product claims made here, nor does it endorse any opinions expressed within this blogsite. The opinions stated from me are 100% mine and they are my true thoughts on this film.
The following two tabs change content below.
Anne is a 30-something full-time SAHM mom of 5 ranging from 3 to 17 and grandma of 1 who resides in Ashwaubenon (Green Bay) Wisconsin. She started blogging in 2008 as a way to regain her sanity. She enjoys coffee, chocolate, cheeseburgers and vodka along with spending time with her husband and kids.