As you know, Joey had surgery this past Friday to repair an umbilical hernia. We first noticed the hernia when Joey was a few weeks old, but we figured it would be like Ellie's and heal itself. After it became bigger and wasn't reducing on it's own after a month, we went back to see our Dr, which led to a visit with the surgeon, which led to the surgery.
So Friday morning, Joey and I got up around 2am so I could feed him and get him cleaned up. I had to cut him off from eating at 3am so I wanted to make sure his tummy was filled up until after surgery.
Before I got him dressed, I did my best to snap a few pictures of his hernia to give you an idea of what we were dealing with.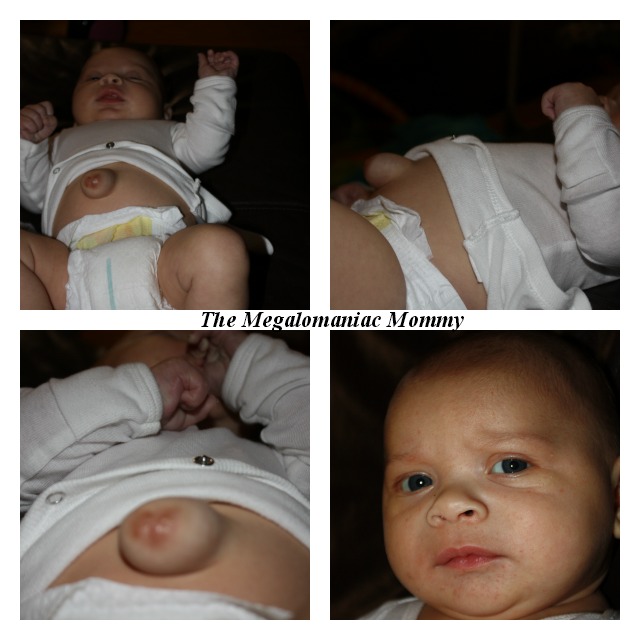 I know, it's huge. It's so big that Alex wanted to have a shirt made that said,"If you think this is big you should see what's in my diaper."
Ah….hernia humor.
But, umbilical hernias….they aren't funny. Look at my boy, look how sad he looks.
So, at 430am Friday, we made our way to the hospital and got all settled in to Joey's room on the pediatrics floor.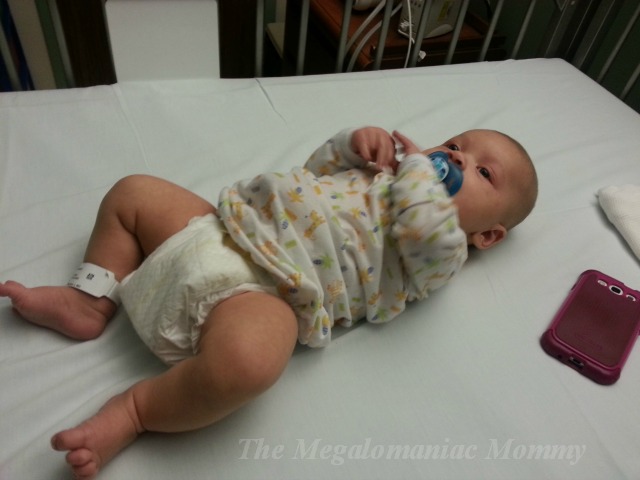 Joey is all prepped for surgery and is waiting patiently while listening to Paradise, by Coldplay.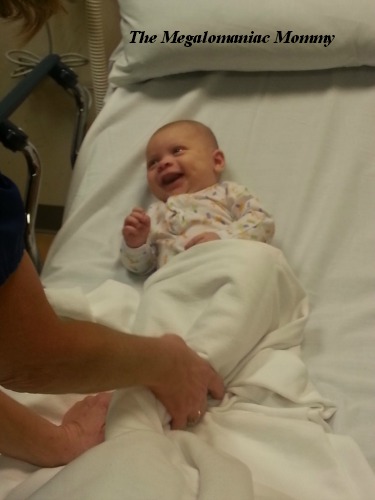 Once we got to Pre-Op, Joey was sure to flirt with the nurses to ensure he was being well taken care of.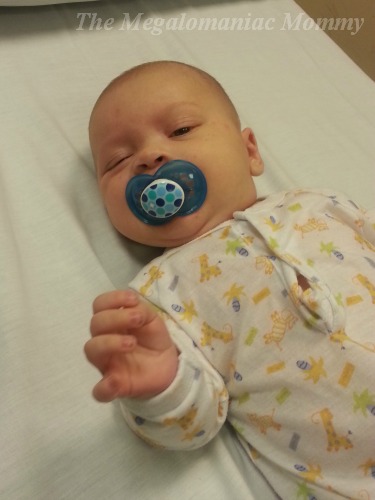 He also made sure that everyone knew he was watching them.
The good news about surgery was that Alex would be able to go back into the OR with Joey while they got him situated and put under.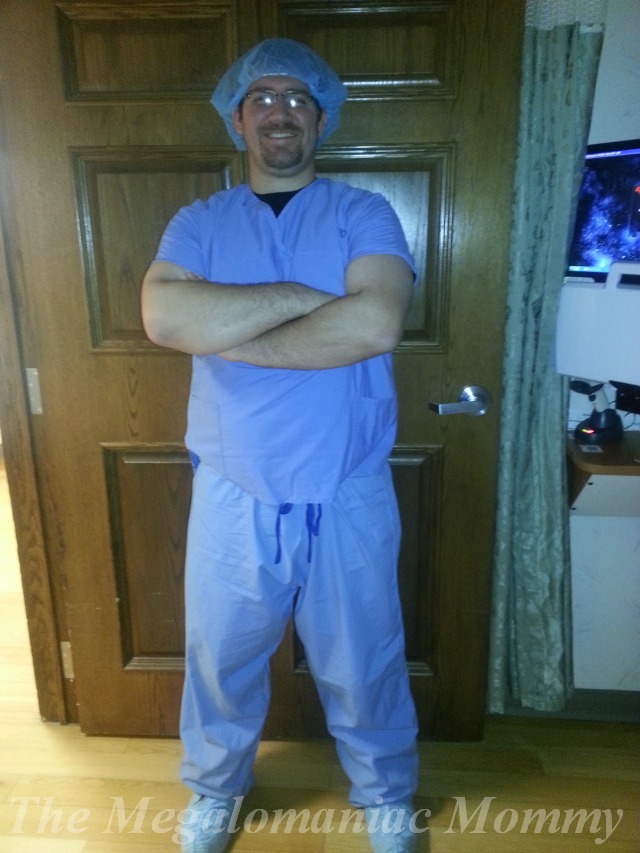 Yeah, he makes a pretty good lookin' Dr!
It was at this point that I left Pre-Op and made my way to the waiting room. I felt it was best, given my emotional state, to let Alex be the one to accompany him to the OR and wait for him to go to sleep. I did make sure to smother Joey with lots of kisses before making my way out.
Since I wasn't in the OR, I asked Alex to snap some pictures so I could get an idea of what was going on. He said that Peanut did really good and only fought the mask (providing the gas to put him under) for a little bit.

Of course, I was happy to hear that everything had started off good.
About an hour later, we were paged to the meeting room to meet with Dr O, Peanut's surgeon. He informed us that everything went perfect and that the hernia was actually bigger than he had originally thought and Joey had required some permanent stitches in addition to some dissolvables.
About 15-20 minutes later, a nurse came to collect us and bring us back into recovery by Joey so we could take him back to his room in Pediatrics.
As a mom, having my little dude back in my arms, was one of the best feelings EVER!
We quickly made our way back to peds with a crying, screaming, VERY HUNGRY Joey.
Within seconds of being in his room, he was eating and we were both relieved.
It definitely didn't take him long to pass out after eating.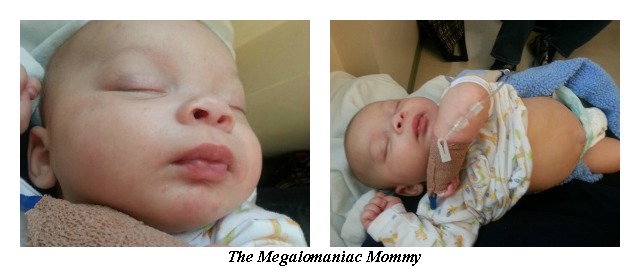 We couldn't believe just how good his belly looked.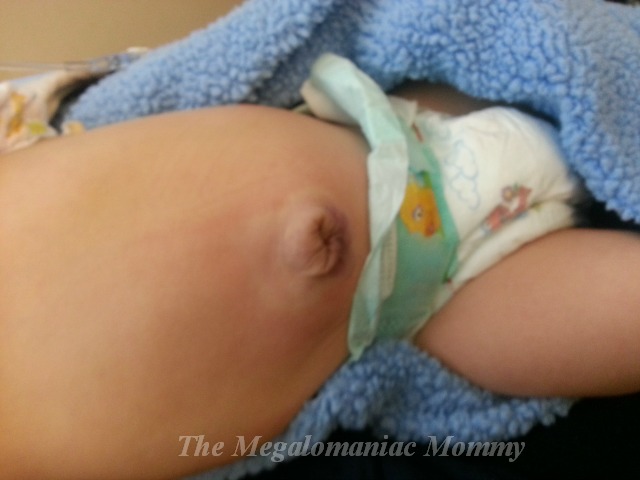 As he continues to grow, his belly button will continue to sink and stretch eventually making it look like a normal innie (although I really like the way it is right now).
For the most part, Joey did a lot of sleeping and laying around on Friday after his surgery.

Although, there was an hour and a half where he cried and screamed because the local they gave him in his tummy to numb the area finally wore off. Once we figured out that was what was ailing him, we gave him some pain reliever and I continued to do my best to console him until it kicked in. After that, it was smooth sailing.
Joey had to spend the night since he was put under and we were allowed to take him home 23 hours post-op. I think he was just as happy as Alex and I were that we were heading home!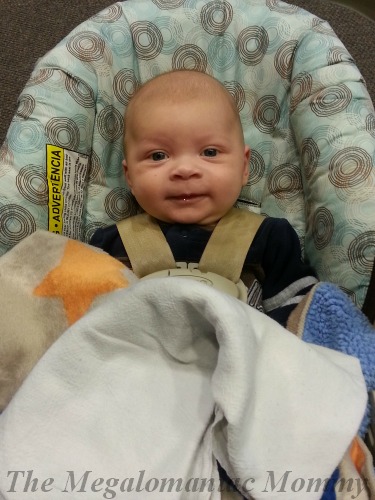 (Below: 2 Days Post-Op)
I was told, by more than one Dr that his umbilical hernia wasn't hurting him or making him uncomfortable. You've heard me say he cries a lot, doesn't sleep and is very crabby/fussy.
So, of course, all I did was pray and hope that this surgery would help him and help him it did.
Joey is now much happier and he cries less and sleeps so much better! I am sooooo happy that we made this decision and that we didn't wait longer to have the surgery because it has done wonders for him!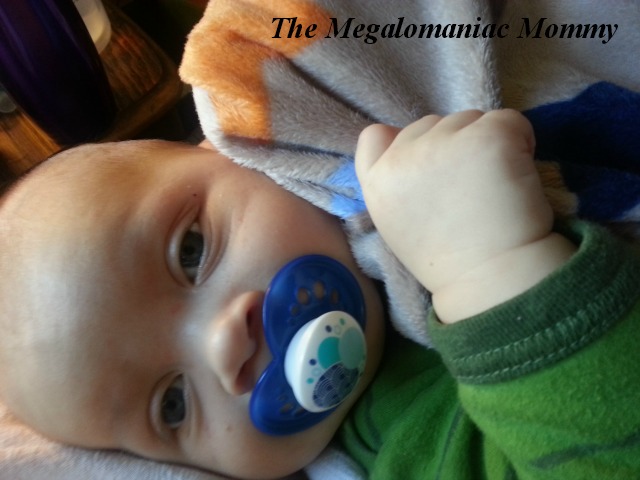 This was yesterday's snuggle time with mommy and his blanket. So happy to know he is feeling better and is doing great!
The following two tabs change content below.
Anne is a 30-something full-time SAHM mom of 5 ranging from 3 to 17 and grandma of 1 who resides in Ashwaubenon (Green Bay) Wisconsin. She started blogging in 2008 as a way to regain her sanity. She enjoys coffee, chocolate, cheeseburgers and vodka along with spending time with her husband and kids.