After a long, cold winter, it is nice to know that it is finally starting to warm up outside and the kids will be out enjoying it soon as well.
Until the ground is dry and Mother Nature decides to play nice, we've been having a lot of fun playing inside and enjoying our new "Painting" Teepee from Pacific Play Tents.
Now, we've had a lot of different indoor play tents so I'm always worried that the kids will destroy it within a few days of having it….
And then I unpacked our teepee and I knew things were going to be different with this one! Heavy canvas for the outside and solid wooden poles to hold it up, I knew this was going to be something that would last us quite sometime.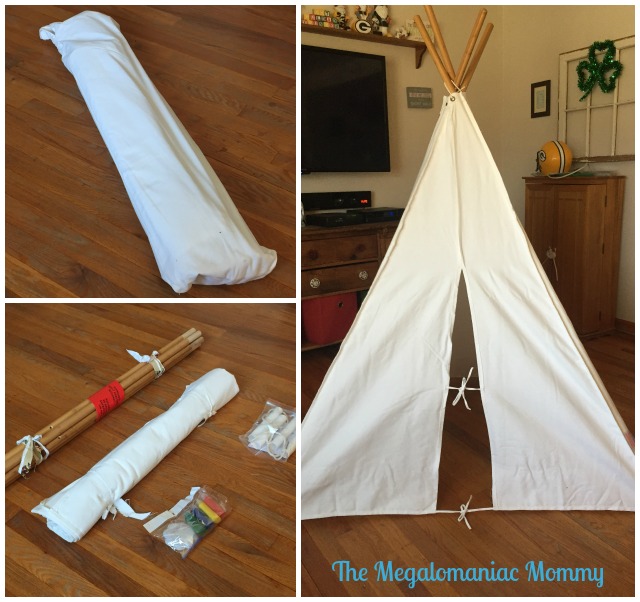 Assembling the teepee was easier than I thought it would be too! Everything came in a nice canvas bag, the poles cnnect with a heavy-duty connector to make them nice and tall and then you just slip the poles in the sleeves on the teepee, string the rope through the poles and the metal grommets, tie it nice and tight and stand up your teepee.
Once the teepee was all set up, we opened up the set of paints that came with it and did some personalizing on the sides.
Of course, we have to have something to represent our beloved Green Bay Packers, so Alexander took care of that. Ellie painted a duck, with a little help from mommy and I took care of Joey and added a choo-choo.
Of course, we set everything up and painted it while Joey was napping so the paint would have time to dry, but he sure was happy to see a giant teepee in our living room when he woke up.
Since setting up our "Painting" Teepee from Pacific Play Tents, the kids have been enjoy sitting in it and watching movies on their iPads, playing games, and there's even been a nap or two in there. Joey has decided that when he is doing something or has something he's not supposed to, it's also the perfect place to run and hide from us.
We can't wait for things to warm up and dry up outside so we can take the teepee outside for even more fun! Thank you Pacific Play Tents for encouraging creative play and endless hours of fun in our home!
Get Your Own
You can get your own "Painting" Teepee from Pacific Play Tents for $170.99.
Connect
Connect with Pacific Play Tents on Facebook, Twitter and Instagram to see some of their other great products.
The following two tabs change content below.
Anne is a 30-something full-time SAHM mom of 5 ranging from 3 to 17 and grandma of 1 who resides in Ashwaubenon (Green Bay) Wisconsin. She started blogging in 2008 as a way to regain her sanity. She enjoys coffee, chocolate, cheeseburgers and vodka along with spending time with her husband and kids.