This is a Sponsored post written by me on behalf of GoodNites for SocialSpark. All opinions are 100% mine.
As a mom, I have never been a fan of the potty training stage. When I hit this stage with Zack, it was very easy and he was trained instantly. When the time came for Libby, we struggled and hit quite a few bumps in the road until it all fell into place.
Alexander…..he's an entirely different story.
We began potty training Alexander when he was 2.5 and after a week of great success, he gave up. We decided at that time he just wasn't ready and we would wait. A year later, as we were preparing for Ellie to arrive, we decided it was time to try again because really, who wants 2 kids in diapers at once?
Our 2nd attempt at potty training went great. After just over a week we had great results and within a month he was fully trained, no accidents and life was grand.
And then…..the nighttime wetting started again. Since it started we have tried time and time again to help him through this and have come to the conclusion that his little body just isn't developed enough yet for him to control his bladder at night. He is a super heavy sleeper and it is very rare for him to wake up when he has to go.
After having our family doctor confirm that it's just something he cannot control, we've taken a step back and are just dealing with it on a daily basis and are doing so with the help of GoodNites Underwear.
We like GoodNites because they fit Alexander just like regular underwear while giving him the protection he needs at night. I also like that they are very discreet when under his jammies and no one can tell he is wearing something other than underwear.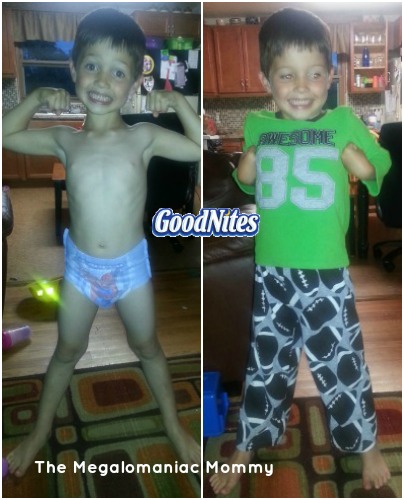 Alexander really likes the fact that he gets to wear SpiderMan to bed every night!
We are happy to report that since we began using GoodNites, we have had A LOT more dry nights around here and our little guy is much more confident when he doesn't wake up to a wet bed!
You can also join the undercover mission by visiting the GoodNites website and you can enter for the chance to win weekly prizes!
Be sure to check back for updates on our GoodNites Underwear Undercover Mission!
Connect:
Be sure to connect with the GoodNites Facebook page to follow along with other stories too!
The following two tabs change content below.
Anne is a 30-something full-time SAHM mom of 5 ranging from 3 to 17 and grandma of 1 who resides in Ashwaubenon (Green Bay) Wisconsin. She started blogging in 2008 as a way to regain her sanity. She enjoys coffee, chocolate, cheeseburgers and vodka along with spending time with her husband and kids.