Dear Anne,
I have to admit it girl, I am rather proud of you and how well you are doing in school. Who knew you actually had a brain inside that head of yours and were actually somewhat smart. WOW! See what happens when you actually use the thing? (You should have listened to your Daddy long ago and not settled for mediocrity!)
So here you are, 12 credits down, working on another 6, 48 to go until you reach 60 and you will have your first college degree. Not to mention of those credits earned you received grades of A, A-,A- and B respectively. For someone who has been out of high school for 12 years and not being a full time student in that long, I have to say, I am impressed. Who knew you had it in you?
I hope you continue to do well in your classes and look forward to you getting that Associates of Arts Degree in Information Technology & Web Development. (Doesn't that have a nice ring to it?)
I can see it now, that diploma in a frame, displayed prominently on the wall in your living room for all the world to see upon entering.
In closing, I'm just going to say—keep kicking ass girl, you've come along way!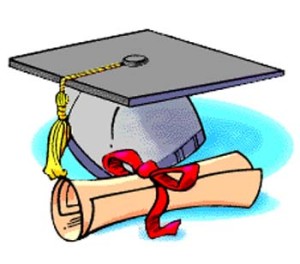 The following two tabs change content below.
Anne is a 30-something full-time SAHM mom of 5 ranging from 3 to 17 and grandma of 1 who resides in Ashwaubenon (Green Bay) Wisconsin. She started blogging in 2008 as a way to regain her sanity. She enjoys coffee, chocolate, cheeseburgers and vodka along with spending time with her husband and kids.