….when you quit smoking!! A month ago today I took my last drag off a cigarette….and it was just that….a drag…..and then I put it out! After being a smoker for 17 years, and a friend of mine having had great success with a smoking cessation product, I decided it was time.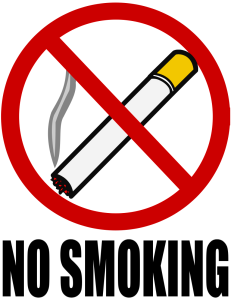 On March 11th 2009, I started taking Chantix to quit smoking and did as I was told by my doc and kept smoking…..well…..6 days later, I lit up the last cigarette I had in my pack, took one drag and just about threw up! That was it…..never again!
I only stayed on the Chantix 2 weeks and not the recommended 90 days and am pleased to report that I don't even crave the nicotine anymore. Now when I smell it, I get sick to my stomach. I also survived my 1st night out since having quit. On April 7th, my BFF MoxieChic & I went to the NKOTB (yes….New Kids on the Block) concert and before the show we stopped in at a local bar and had a few cocktails. Now, before I quit smoking I would do it quite heavily while drinking. I was very surprised to find that I still didn't have an urge to smoke while we were sitting there and was a little put off with all the smoke around me, but managed to survive it.
So, this is me saying….if you're a smoker and you're really trying to quit…..Chantix is the way to go!!!
Look at it this way, I quit 31 days ago. 31 days x 20 cigarettes in a pack = 620 cigarettes that I didn't smoke and at approximately $5 a pack, that's $155.00 I didn't spend on something that I didn't really need, therefore saving me $1,860 for the whole year! (I've started to notice the extra money in my pocket)!

The following two tabs change content below.
Anne is a 30-something full-time SAHM mom of 5 ranging from 3 to 17 and grandma of 1 who resides in Ashwaubenon (Green Bay) Wisconsin. She started blogging in 2008 as a way to regain her sanity. She enjoys coffee, chocolate, cheeseburgers and vodka along with spending time with her husband and kids.