Saturday night, the Alex and I curled up in front of the TV with Alexander the rambunctious 2 and a half year old to watch Disney Nature's OCEANS.
My thoughts after seeing this movie can be summed up into one word…..WOW!!!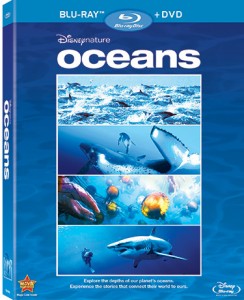 This movie is amazing! It was educational and beautiful. Not to mention the quality of the underwater pictures felt like you were seeing it underwater with your own eyes.
The Alexander, was awe struck. He kept say,"Look mommy!! Isa fissshh! ISA FISSSAlex!"
It probably helps that he is currently obsessed with fish but he was still filled with plenty of oooooooo's and ahhhhhsssss.
OCEANS is narrated by Pierce Brosnan (The Ghost Writer, Percy Jackson and the Olympians, and Mamma Mia) who has long been affiliated with environmental causes and campaigns including programs such as the International Fund for Animal Welfare's "Save the Whales Again!" campaign.
Disneynature OCEANS is helping to conserve more than 35,000 acres of coral reef in The Bahamas on behalf of moviegoers who went to see the film during its theatrical opening week. In continued efforts, Disneynature has committed to carry on the "See OCEANS, Save Oceans" initiative by contributing a portion of sales to The Nature Conservancy through Disney's Worldwide Conservation Fund for every Disneynature OCEANS Blu-ray Combo Pack or DVD purchased between October 19 and 25. As one of the world's leading conservation organizations, The Nature Conservancy is widely recognized for its efforts to protect vital marine habitats.
By purchasing a Blu-ray Combo Pack or DVD of Disneynature OCEANS between October 19 and 25, viewers can help conserve our world's oceans and the species that depend on them for survival. In honor of each Blu-ray and DVD purchased during that period Disneynature, through the Disney Worldwide Conservation Fund, will help establish new marine protected areas in The Bahamas with The Nature Conservancy, one of the largest conservation organizations in the world. In The Bahamas, The Nature Conservancy and its local partners, including the Bahamian government, are establishing a new marine protected area along the west side of Andros Island. Currently, new marine protected area boundaries are being defined that will expand the part from 300,000 acres to over 1 million acres. These areas will contain miles of vital coral reefs that provide natural habitat, nurseries and feeding grounds for hundreds of marine species. For more details on Disney's collaboration with The Nature Conservancy, please visit: www.disney.com/oceans.
Check out this preview of the film:

I hope you get a chance to check out this film and love it as much as we did and add it to your Disney Collection.

Disclaimer: This promotion was based on using a complimentary product provided by Walt Disney Studios Motion Pictures. Walt Disney Studios Motion Pictures doesn't represent or warrant the accuracy of any statements or product claims made here, nor does it endorse any opinions expressed within this blogsite. The opinions stated from me are 100% mine and they are my true thoughts on this film.
The following two tabs change content below.
Anne is a 30-something full-time SAHM mom of 5 ranging from 3 to 17 and grandma of 1 who resides in Ashwaubenon (Green Bay) Wisconsin. She started blogging in 2008 as a way to regain her sanity. She enjoys coffee, chocolate, cheeseburgers and vodka along with spending time with her husband and kids.