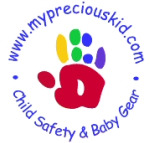 I recently received The Child Safety Guide for New and Expecting Parents in addition to a Child Safety Pack from My Precious Kid .
Now, even though I am not a 'NEW' parent I still find this book to be quite helpful. My first 2 children are much older than the Alexander (there is an 7.5 year age gap) so for me I am starting from the beginning again and for my husband he is a 'NEW' parent. This book is packed full of helpful tips from childproofing, car seats and product recalls all the way to common household hazards. I think this book is as much of an asset to all expectant parents as that copy of What to Expect When You're Expecting that (around here) your obstetrician gives you with every pregnancy no matter how many copies you have laying throughout your home.
In addition to the book, I also received a Child Safety Pack that included 1 DNA/Fingerprint Kit with Ink, 1 Wallet ID Care, 1 Car Seat ID Card & Velcro, I Medical Release Card, 1 Luggage Tag ID Card, 1 Travel Wristband, 2 Shoe ID Stickers and 4 Self Seal Pouches. This kit sells for $15.99 on the My Precious Kid website and to me is worth the money to ensure your child's safety. As for what I did with the kit, I changed things up a little bit. Since I have 3 children, I used a card for each of my children including the Car Seat ID card since our car seats already have them installed) and put the Medical Release Card in the Luggage Tag pouch (since we NEVER travel) and I now have a card in my wallet for each of my children. With all of the stories in the news of children being abducted and reports of parents who don't have a current picture of their children, I want to know that I am prepared should something happen especially with Halloween coming up and being out Trick or Treating with the kids plus all of the other packed Halloween events we will be attending over the next week.
The great thing about everything in this kit is it is all laminated and doesn't risk any damage if it becomes wet (or covered in sweat when using the shoe tags). I have to say that I am quite pleased with everything the kit included and the information it offered. We will be doing our DNA kit tomorrow as well as fingerprinting the kids to complete this project in preparation for an extremely crowded family Halloween event at Lambeau Field this weekend.
I was also pleasantly surprised by the amount of products the My Precious Kid offers including a few items that I have been able to find elsewhere (like sliding door locks and child locators) which I will be looking into ordering soon.
Now if I could only get my hands on a Kiddie Kangaroo to review as well…..oh wait….I could use that 10% discount that My Precious Kid is offering my readers on their 1st order!
That's right! When you place your first order with My Precious Kid, you can receive 10% OFF by using coupon code 10FLL09.
What could be better than saving money?
I know…..
How about winning your own copy of The Child Safety Guide for New and Expecting Parents along with a Child Safety Pack like I received?
Yes, My Precious Kid has been kind enough to offer one of my readers a chance to win just that. In addition to the grand prize, I also get to offer 5 additional winners with a Car Seat ID tag as pictured below: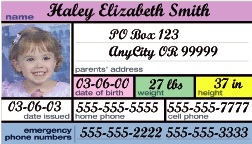 That's a total of 6 winners!
*The product featured in this review was provided free of cost to me by My Precious Kid for the sole purpose of product testing.
The following two tabs change content below.
Anne is a 30-something full-time SAHM mom of 5 ranging from 3 to 17 and grandma of 1 who resides in Ashwaubenon (Green Bay) Wisconsin. She started blogging in 2008 as a way to regain her sanity. She enjoys coffee, chocolate, cheeseburgers and vodka along with spending time with her husband and kids.