First, I want to wish all the mommy's and mommy's to be a Happy Mother's Day! I hope you had as good a day as I did!
My Mother's Day Weekend began with some much needed rummaging on Friday. Got some great things! We picked up 2 Little Tikes basketball hoops (1 big & 1 small), a really nice Little Tikes Kitchen, a Little Tikes Sand & Water Table and a few other random things. (I only spent $24 on all the Little Tikes stuff).  Once the rummaging was done, the hubby and I hit up the library for their used book sale (all the books we could fit in a brown paper grocery bag for $3-we filled 2)!  Then it was home to take a much needed nap.  In the evening we ventured to Comedy City with the kiddies and the in-laws for some live improv – the whole family had a blast!
On Saturday, the Alex & I drove to Madison to pick up a very nice Little Tikes Swingset, from a high school friend, for the little guy. (Thanks again Julie & Brian)  After our very long and quite entertaining (we were thrilled that our van survived the trip there and back) we got the swing set put together and relaxed for the remainder of the evening.
For Mother's Day, we went to my sister's for a very nice lunch with her family and my parents. I made an excellent dessert of 2 Hershey Bar Pies (1 with almonds and 1 without) They were AWESOME! (and oh so easy to make)!
As for what did I get for Mother's Day:
Last week the Alex bought me a brand new computer that I definitely needed and love soooooo much! As for the kids- I told them they weren't allowed to buy me anything this year since I got the new computer so they opted to give me gifts from the heart and I am going to share them with you here.
I don't have anything to show you from the Alexander as his gift was to snuggle in bed with me and smother me with kisses…..best gift from a 1 year old!
From the wonderful Zack, I got this very nice poem: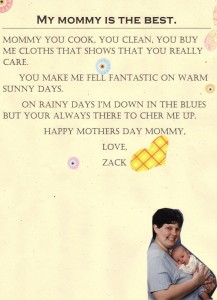 Seriously, I couldn't have asked for a sweeter gift from a 10 year old boy! This just melted my heart!
The lovely Libby made a beautiful picture of me along with a cute little note that said You Are Cool!  Here is the picture: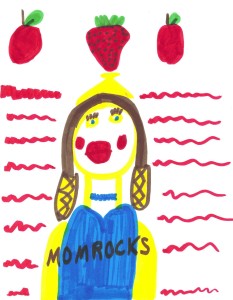 The Alex was also kind enough to make me breakfast this morning too!
All in all I had a great Mother's Day! Hope you did too!
The following two tabs change content below.
Anne is a 30-something full-time SAHM mom of 5 ranging from 3 to 17 and grandma of 1 who resides in Ashwaubenon (Green Bay) Wisconsin. She started blogging in 2008 as a way to regain her sanity. She enjoys coffee, chocolate, cheeseburgers and vodka along with spending time with her husband and kids.
Latest posts by Anne Younger (see all)