When it comes to owning a dog, you have to get used to a few things. You have to get used to letting them outside, even if it as at 3am and you were in the middle of a really good dream. You have to get used to cleaning their paws or drying them off if they were outside in the rain, snow or playing in the mud. You have to get used to getting them groomed, vet appointments and spending money on them. You have to get used to the smelly dog farts (and they are all bad) and nasty dog breath.
When it comes to Bubba, I can put up with everything except the nasty dog breath. I don't know what it is but I hate dog breath (puppy breath is a whole other story). If I could brush his teeth daily, I would! Thankfully we have discovered that using Milk-Bone Brushing Chews are as effective as brushing your dogs teeth and they seem to be helping solve Bubba's bad breath issue too!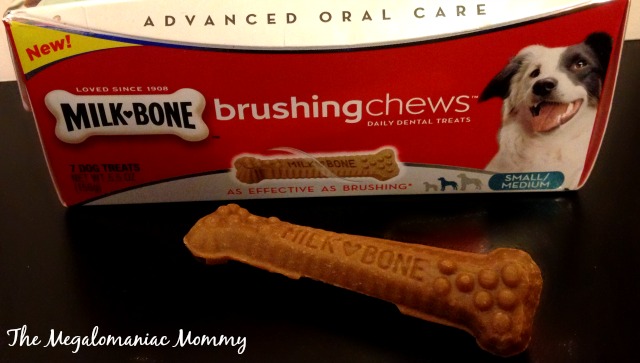 Milk-Bone Brushing Chews are daily dental treats for dogs that taste like a treat and clean like a toothbrush! Since it's not feasible for us to clean Bubba's teeth daily, and knowing that good oral care will help him live a healthy, happy life, giving him a brushing chew before I head to bed everynight has been a great way to get the job done.
Bubba loves his Milk-Bone Brushing Chews and they don't last long when we give him one. Put it in front of him and he is quick to snatch it up, runaway and chow down.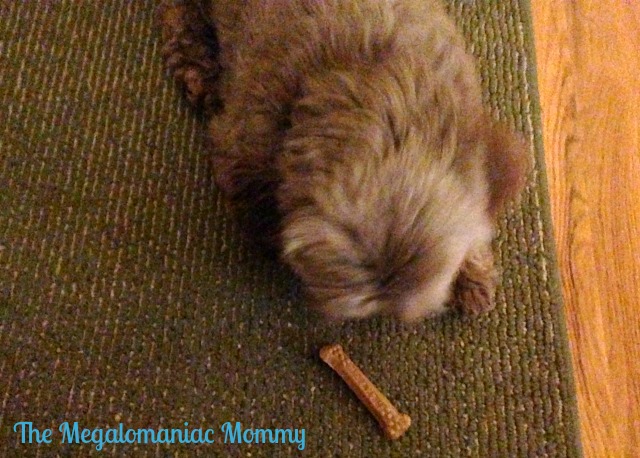 Every time we give Bubba a new chew, I just remember that by giving him these we are saving money in the end because we are helping him maintain good health and this will reduce our vet bills.
How Do They Work?
I'm sure you are wondering how the Milk-Bone Brushing Chews work and what makes them so effective? I know I was when I first saw them.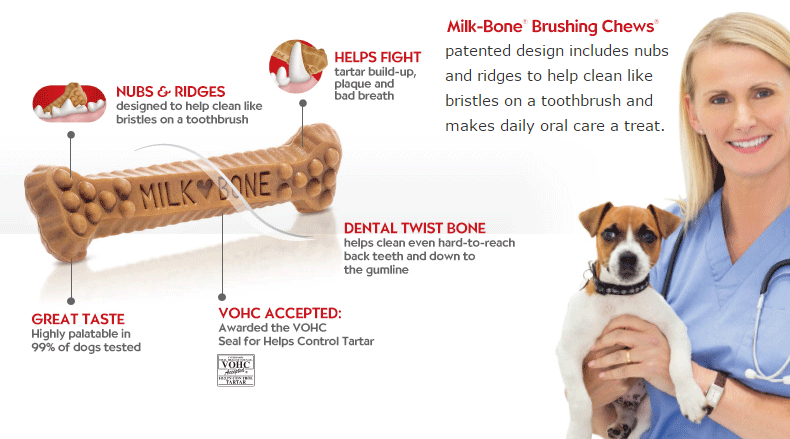 As you can see, Milk-Bone Brushing Chews are designed to clean just like the bristles on a tooth brush and they help fight all the tartar build-up and plaque that can cause bad breath, all while being a delicious treat for your dog.
Learn More
For even more information on Milk-Bone Brushing Chews, check out this video and even grab a coupon to save $1.00 on any ONE Milk-Bone Brushing Chews 5.5oz package.
Take the Quiz and Enter to Win
Don't miss your chance to win a fabulous Milk-Bone gift basket, including a $250 Walmart gift card. Just click on the picture below to go take the quiz and enter for your chance to win!
The following two tabs change content below.
Anne is a 30-something full-time SAHM mom of 5 ranging from 3 to 17 and grandma of 1 who resides in Ashwaubenon (Green Bay) Wisconsin. She started blogging in 2008 as a way to regain her sanity. She enjoys coffee, chocolate, cheeseburgers and vodka along with spending time with her husband and kids.