As many of you know, the little Alexander does the "hotdog dance" A LOT around here.
What is the "hotdog dance"?
For those of you who watch Mickey Mouse Clubhouse, I'm sure you are in the know.
For those who don't watch it, here is a peak at it!

Alexander not only dances to the song, but he sings in at various times throughout the day.
Needless to say, he is a fan!
We enjoy watching Mickey Mouse Clubhouse, and when I say we, I mean all of us. It's a really cute show.
A few months ago, Disney introduced our family to the Mickey Mote, and since that time we have been adding movies to our collection that include Discovery mode so Alexander can interact with the show.
The most recent DVD we added to our collection is Minnie's Masquerade which is available in stores today, February 8th 2011.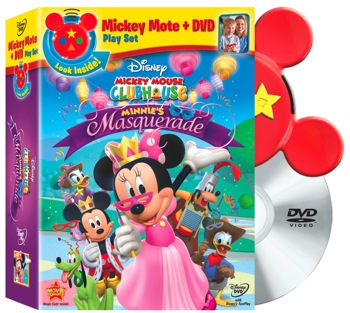 In this adventure, children get to join Minnie, Mickey and Pals in an adventure that celebrates themes of friendship, teamwork, sharing, problem solving and dressing-up.
This DVD includes four Minnie-themed adventures, a never-before-seen episode, and a free paper mask which Alexander was very pleased to model!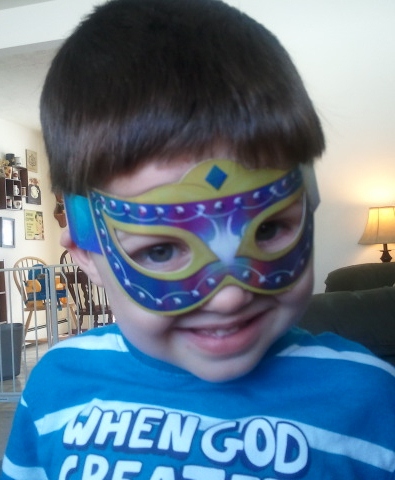 We all really enjoyed these episodes of Mickey Mouse Clubhouse, and we hope you will too!
Here is a little sneak peek just for you!
Disclaimer: This promotion was based on using a complimentary product provided by Walt Disney Studios Motion Pictures. Walt Disney Studios Motion Pictures doesn't represent or warrant the accuracy of any statements or product claims made here, nor does it endorse any opinions expressed within this blogsite. The opinions stated from me are 100% mine and they are my true thoughts on this film.
The following two tabs change content below.
Anne is a 30-something full-time SAHM mom of 5 ranging from 3 to 17 and grandma of 1 who resides in Ashwaubenon (Green Bay) Wisconsin. She started blogging in 2008 as a way to regain her sanity. She enjoys coffee, chocolate, cheeseburgers and vodka along with spending time with her husband and kids.