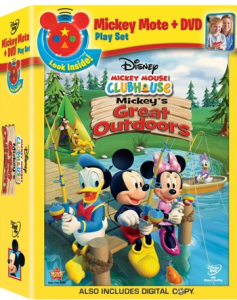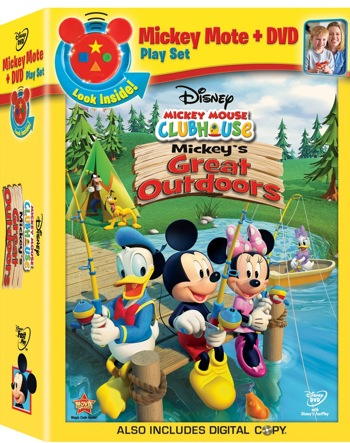 Now I know I have mention before that we enjoy watching Mickey Mouse Clubhouse in our home and have been very pleased with the Mickey Mote, so of course we are happy to announce the May 24th release of MMCH: Mickey's Great Outdoors (which Alexander happens to be watching for the 2nd time today as I am writing this!)
This play set includes a Mickey Mote and the DVD along with a digital copy!
Mickey's Great Outdoors features 4 episodes from Mickey Mouse Clubhouse including a never-before-seen bonus episode: Mickey's Fish Story!
Other episodes included are Mickey's Camp Out, Mickey and Minnie's Jungle Safari, Daisy in the Sky and Daisy's Grasshopper.
As always, Alexander loved them all and I'm sure we will be watching them over, and over, and over again!
He loves using his Mickey Mote to play along with the show in Discovery Mode and has really mastered it over the last few months.
Here's a clip from Daisy's Grasshopper, one of my favorite episodes!
Have you checked out the Mickey Mote yet for your toddler? What do you think of it? I would love to hear your thoughts!!
Disclaimer: This promotion was based on using information provided by Walt Disney Studios Motion Pictures. Walt Disney Studios Motion Pictures does not represent or warrant the accuracy of any statements or product claims made here, nor does it endorse any opinions expressed within this blogsite. The opinions stated from me are 100% mine and they are my true thoughts on this film.


The following two tabs change content below.
Anne is a 30-something full-time SAHM mom of 5 ranging from 3 to 17 and grandma of 1 who resides in Ashwaubenon (Green Bay) Wisconsin. She started blogging in 2008 as a way to regain her sanity. She enjoys coffee, chocolate, cheeseburgers and vodka along with spending time with her husband and kids.