Last Friday, I took the Libby in for her 10 year check-up.
I'm pleased to report everything is looking good.
She's perfectly healthy.
At least from what the doctor can tell by a visual exam.
(Mentally is a whole other story……..)
After getting a clean bill of health, the fabulous Dr. J informed her that she need to get her chicken pox vaccination.
This did NOT go over well with her.
She was terrified.
Why?
I have no clue.
This child had her ears pierced when she was 2 and didn't even flinch.
And she's never so much as cried from getting a shot before.
I told her she needed to sit down and relax.
This is what she did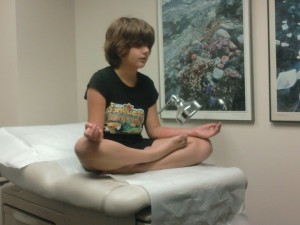 (Click on photo to enlarge for better viewing.)
No.
Your eyes are not playing tricks on you.
That is my little Libby.
Meditating.
How does my daughter know what meditation is to begin with?
When the nurse came in to administer her shot, she got a little nervous once again.
She asked me to hold her hands.
And then….
Then she asked me to recite the Our Father.
Yes.
She wanted me to pray.
(She had just finished up a week at Vacation Bible School and Prayer Classes)
I didn't pray.
I told the nurse just to go ahead and do it.
The Libby was still freaking out waiting for the needle to poke her well after the nurse was done and putting the band-aid on.
She didn't feel a thing!
The following two tabs change content below.
Anne is a 30-something full-time SAHM mom of 5 ranging from 3 to 17 and grandma of 1 who resides in Ashwaubenon (Green Bay) Wisconsin. She started blogging in 2008 as a way to regain her sanity. She enjoys coffee, chocolate, cheeseburgers and vodka along with spending time with her husband and kids.
Latest posts by Anne Younger (see all)