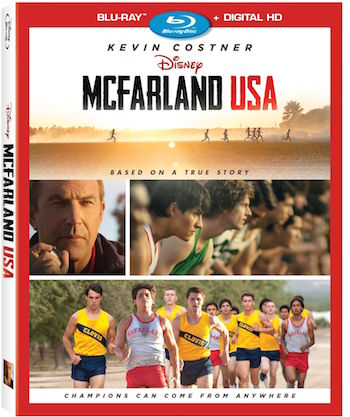 In the tradition of Disney sports movies comes "McFarland, USA" based on a true story of underdogs triumphing over tremendous obstacles. This heartwarming drama follows novice runners who strive to build a cross-country team under Coach Jim White (Kevin Costner) in their predominantly Latino high school. Everyone has a lot to learn about each other, but when Coach realizes the boys' exceptional running ability, things change. Beyond their talent, it's the power of family, commitment to each other and work ethic that transform them into champions — helping them achieve their own American dream.
For some reason, I love movies that are sports related, especially Disney ones. I don't know what it is but I just can't get enough of them. Oh and if they are based on a true story, I am even more interested and you can bet that I'm Googling all kinds of things to fact check and compare the real life story with that of what I see on the big screen.
McFarland USA is one of those movies that I absolutely loved. The true story to big screen adaption was great and learning so much about a small town I have never heard (with the exception of McFarland WI) and what these families went through and to see their children have great success in a sport thanks to a coach who believe in them, it's really a great story.
And yes, I laughed and I cried. Really, I did.
Buy It
You can pick up your copy of McFarland USA on Disney Blu-ray Combo Pack beginning June 2nd.
Get Connected
Connect with McFarland USA on Facebook to stay on top of updates, giveaways and more!
The following two tabs change content below.
Anne is a 30-something full-time SAHM mom of 5 ranging from 3 to 17 and grandma of 1 who resides in Ashwaubenon (Green Bay) Wisconsin. She started blogging in 2008 as a way to regain her sanity. She enjoys coffee, chocolate, cheeseburgers and vodka along with spending time with her husband and kids.