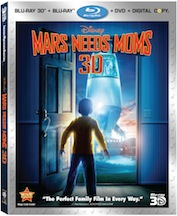 At this very moment, I am sitting in my living room with my boys watching Mars Needs Moms on Disney Blu-Ray.  They have been waiting to see this film since the first previews aired and now we have been given the opportunity to review it.
I have to admit, the first few minutes kind of creeped me out with the whole scary alien factor, but neither the 12 year old or the 3 year old seem to be affected by it.
Here's a little info on the film while I watch some more of it.
A motion-capture intergalactic adventure follows 8-year old Milo (voiced by Seth Green) on his mission to save his mom (voiced by Joan Cusack) from Martians, who need humans to help mother their young. It's a race against time in space! Bonus material includes deleted scenes, a lesson in Martian 101, a comedic look behind-the-scenes with Seth Green, and more!
Okay, here are my thoughts on the movie.
The Supervisor creeps me out BIG TIME.



See…am I right?
Creepy.
But the sweet Ki and gribtastic Gribble make up for it.
All in all, this movie wasn't really for me. It definitely isn't at the top of my favorite Disney movie list.
As for the boys, they seemed to enjoy it and both told me they wouldn't let an alien take their mom to Mars!
The film offers some great bonus features such as
-Extended Opening – The movie begins… but wait, there's more. See it here.
-Life On Mars: The Full Motion-Capture Experience – Go way behind the scenes to the 'space' where the actors' performances are captured. This feature-length, picture-in-picture viewing mode also lets you listen to director Simon Wells and actors Seth Green and Dan Fogler give a fun and insightful look into creating the movie.
-Deleted Scenes with Simon Wells introductions (4 Blu-ray 2D Exclusive Deleted Scenes) – 7 deleted scenes of which four are exclusive to the Blu-ray 2D release. Some cool scenes ended up on the cutting room floor. Now you can see them with introductions by director Simon Wells.
-"Flower Power" Easter Egg – the name of the show that Ki watched and learned English from is entitled "Freaks on the Street."
-"Fun With Seth" – The cast and crew had a galaxy of fun making Mars Needs Moms, thanks to the on-set antics of Seth Green and Dan Fogler. Watch them do the ROM dance see them compete to see who can do their verbal ROM the fastest, and much more.
-Martian 101 – Do you speak Martian? Go behind the scenes and see how the producer and cast came up with their own unique Martian language. Then learn how to speak it yourselfwith lessons from a leading Martian language expert.
Our favorite is by far Life on Mars. It was cool to watch how they captured the motion of the performers to create the film.
Overall, if your kids enjoy movies the include aliens, space shuttles and all that kind of stuff, this is the film for them!
P.S. Eat your broccoli!

Disclaimer: This promotion was based on using information provided by Walt Disney Studios Motion Pictures. Walt Disney Studios Motion Pictures does not represent or warrant the accuracy of any statements or product claims made here, nor does it endorse any opinions expressed within this blogsite. The opinions stated from me are 100% mine and they are my true thoughts on this film.
The following two tabs change content below.
Anne is a 30-something full-time SAHM mom of 5 ranging from 3 to 17 and grandma of 1 who resides in Ashwaubenon (Green Bay) Wisconsin. She started blogging in 2008 as a way to regain her sanity. She enjoys coffee, chocolate, cheeseburgers and vodka along with spending time with her husband and kids.