Now that we have a little one around again, I have discovered that we don't really have any baby toys for her. Since Hazel was born, I've been trying to find different things for her to play with as she grows. Thanks to our friends at The Manhattan Toy Company, little Hazel has some great new friends and a fun 'ball' that her Uncle Joey has been testing for her.

The Woodland Babies
The Manhattan Toy Company has introduced us to their adorable Woodland Babies collection, a line filled with adorable stuffed animals that are beyond soft.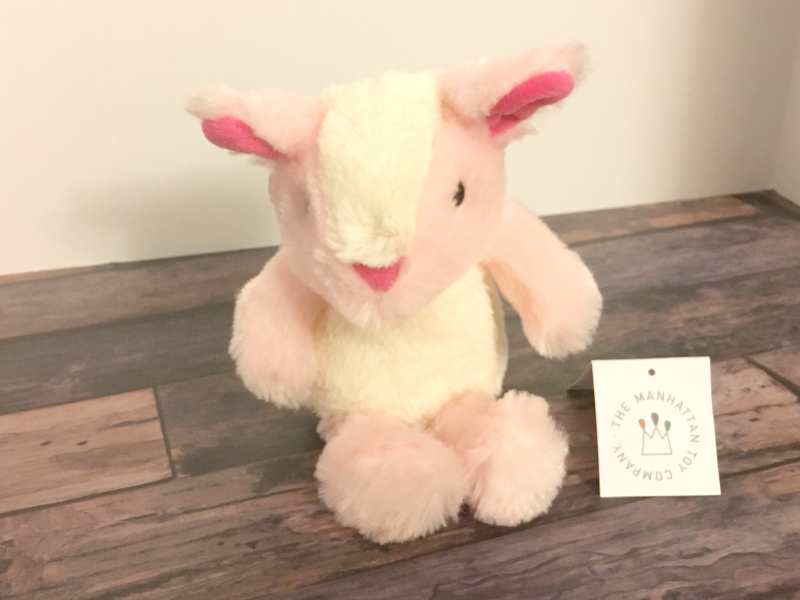 Pictured: Woodland Babies Chloe Deer Small • $10 • Ages Newborn+
In addition to Chloe, you can also find a bunny, fox, and owl in the Woodland Babies collection. Now that Hazel has discovered her hands, it is only a matter of time before she grabs on to Chloe and snuggles up with her.
The Woodland Animals
For a more interactive toy for your little one, the Woodland Animals collection offers the same adorable stuffies but with a little more action. In this collection, you will find animals that hold a sensory ring rattle, one that is a musical pull (as pictured below), and an awesome stroller toy that has crinkle ears, rattle ball and a soft pull n' jiggle tail.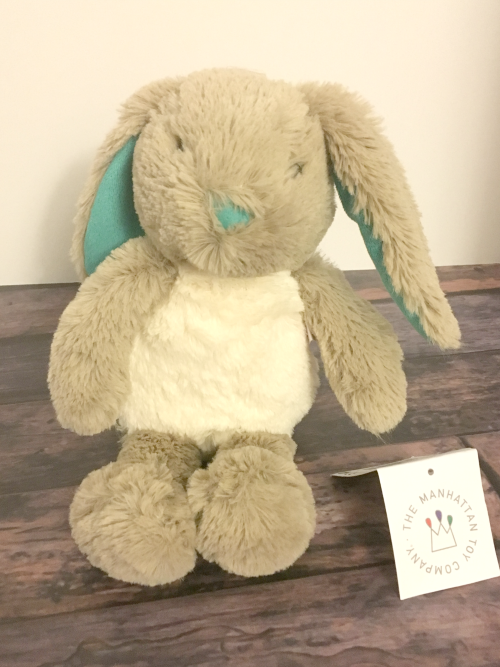 Pictured: Woodland Babies Bellamy Bunny Pull Musical • $18 • Ages Newborn+
For now, Hazel's Bellamy Bunny pull hangs from her car seat but I know it won't be long until she grabs a hold of it and realizes that he plays a verse from Brahms Twinkle Twinkle, one of her grandma's favorite lullabies.
Click Clack Ball Keeps Little Hands Busy
Now, if you have a child who has 'busy hands' then the Click Clack Ball is the toy you need. Hazel isn't quite ready for this toy just yet but it sure has been a blessing in keeping our little Joey occupied.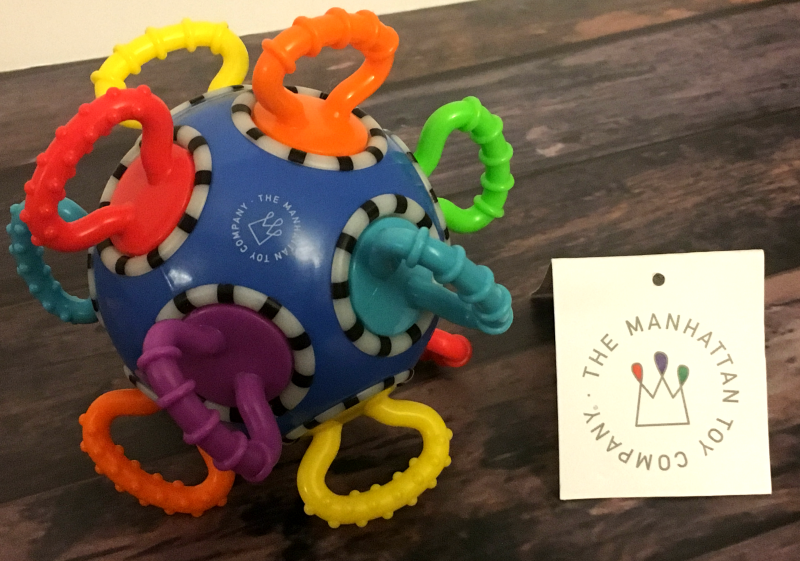 Pictured: Click Clack Ball • $16 • Ages Newborn+
What makes this toy so great for busy hands is that each one of those 'loops' twists and clicks to make noise and just keeps their hands moving. Joey seems to think that those are keys sticking out of the ball and that if he keeps twisting he will be able to get them out. I'm happy to see him keeping busy with the 'keys' instead of putting his hands everywhere else they don't belong.
Shop The Manhattan Toy Company
You can find all of these great toys mentioned here and many more when you visit The Manhattan Toy Company online.
Also, be sure to follow The Manhattan Toy Company on Facebook, Twitter, Instagram, and YouTube!
The following two tabs change content below.
Anne is a 30-something full-time SAHM mom of 5 ranging from 3 to 17 and grandma of 1 who resides in Ashwaubenon (Green Bay) Wisconsin. She started blogging in 2008 as a way to regain her sanity. She enjoys coffee, chocolate, cheeseburgers and vodka along with spending time with her husband and kids.