Since becoming a mom, almost 16 years ago, there are brands that have been our go-to when it comes to children's toys and one of those is Little Tikes.
Some of the first toys I purchased for Zack when he was little were Little Tikes and my first big splurge was for a slide for him to use in the house during winter. He absolutely loved it.
Over the years, our collection of Little Tikes toys has grown to include swings, climbers, playhouses, no less than 5 Cozy Coupes and so much more. Really, if our backyard wasn't covered in snow right now, you would be amazed with the amount of stuff we have.
For me, Little Tikes is a brand we trust because their products are built to last and when you have a bunch of kids who are climbing around on things, you need something that isn't going to be tossed in the garbage after one day of play.
If you are still searching for the perfect gift for a little one, check out these great toys from Little Tikes that they are sure to love!
One Ellie's wish list this year is a brand new kitchen. She loves to pretend play and until our basement playroom is done, we just don't have the room, but when we do, I think we will pick up a Little Tikes Ultimate Cook Kitchen.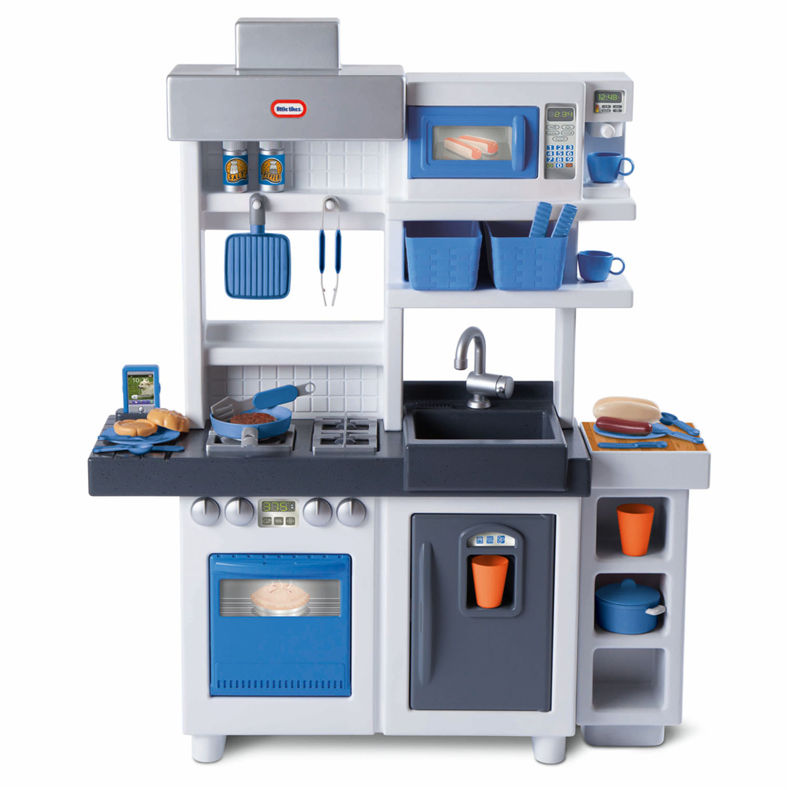 The Little Tikes Ultimate Cook Kitchen helps encourage creativity and your child's imagination is sure to run wild with this need playset. This modern kitchen features a cappuccino maker as well as 30 other fun accessories. (MSRP $129.99)
Next on our list is an item on my wish list because it is something that would keep the kids entertained and active (in the basement) when it is too cold outside this winter. I want the Little Tikes Tunnel & Dome Climber.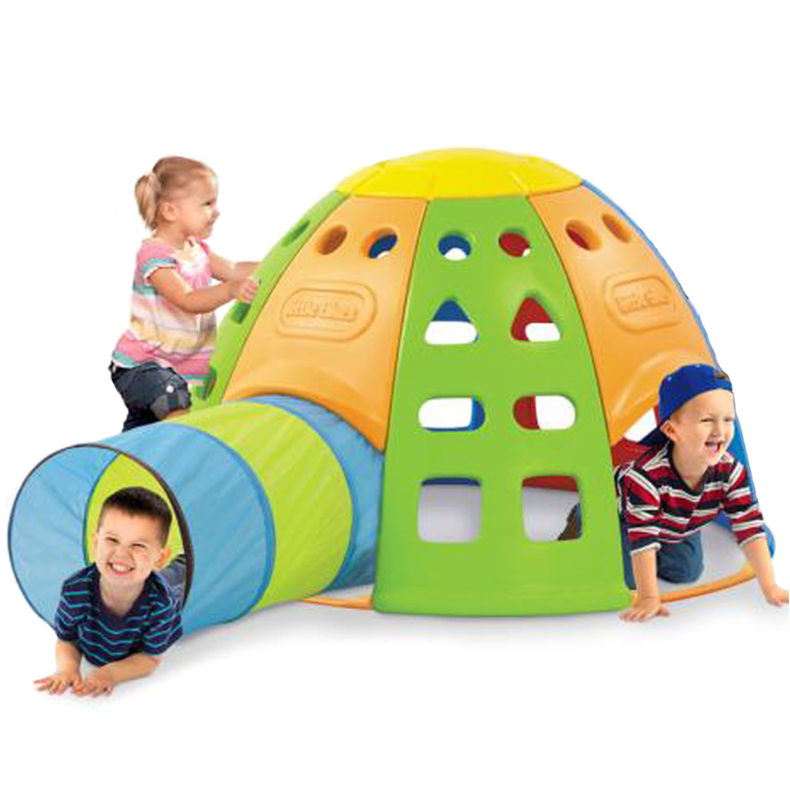 Joey is in his must climb on everything phase and this dome climber would be amazing for him, Ellie and Alexander to climb on, play in and crawl through. My kids would be entertained for house with this! (MSRP $149.99)
Since we are on the subject of Joey, our active little monkey, he is really into cars and trucks. Yes, at 16 months, our little guy loves to push around the cars and trucks and play like a big boy. Over the weekend, St. Nick (we live in Wisconsin) paid a visit to our house and left Joey a Little Tikes Touch 'n' Go Racer and he's been touching and going since!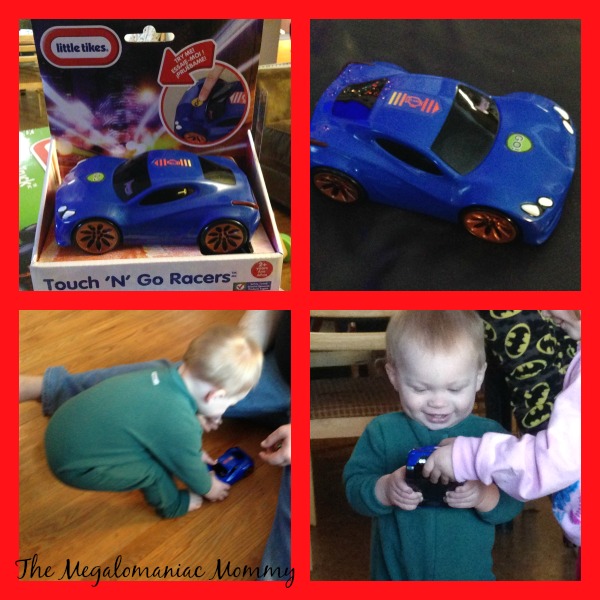 It didn't take long for Joey to figure out that all he had to do was touch the yellow Go button and his car would race away. He loves to chase it around the house and play with it every chance he gets. The only thing he isn't a fan of is when it ends up under the couch or the TV stand and someone has to dig it back out for him. (MSRP $12.99)
Another item that we just love and think Joey will be excited to see under the Christmas tree this year is the new Little Tikes Big Dog Truck.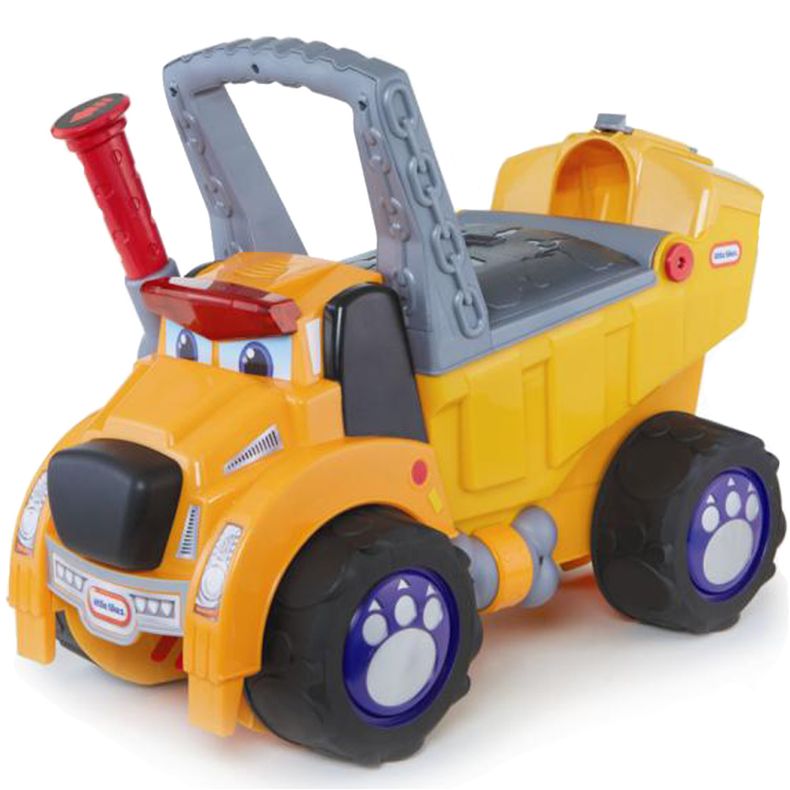 The Big Dog Truck is sure to be a hit with our little toddler and is made for kids ages 12 months to 3 years. The best part…..it's a grow with you toy! It's a walker, rider and a dump truck all-in-one and also makes fun sounds, encourages creative play and small motor skills. I am pretty sure that Joey's favorite part, aside from riding on it, will be the sounds it makes when eating the pretend boulders it comes with. I'm sure he will also like the under the seat storage so he can take his blankie, cup and Pup-Pup with him everywhere he goes. (MSPR $44.99)
Now these are just a list of our favorite items for the holidays, check back with me in a few months when I share my list of favorite outdoor toys!
The following two tabs change content below.
Anne is a 30-something full-time SAHM mom of 5 ranging from 3 to 17 and grandma of 1 who resides in Ashwaubenon (Green Bay) Wisconsin. She started blogging in 2008 as a way to regain her sanity. She enjoys coffee, chocolate, cheeseburgers and vodka along with spending time with her husband and kids.