Now that the kids can finally get outside and play (well, when the weather is nice), we've been taking advantage of it every chance we get.
My kids love to be outside, running around, riding bikes, swinging, climbing and playing in the sandbox. We have a giant sandbox in our backyard that my dad built with Alexander when we moved in and it has provided hours and hours of fun.
One problem with having a large, uncovered sandbox in the backyard is that it's not always readily available to play in. If it rains, we have pools of water and lots of mud and when it snows or it is freezing out, it's out of commision.
Since my kids enjoy playing in the sand so much, I like to have a back up plan and that is where the Little Tikes Treasure Hunt Sand & Water Table
comes in handy.
The Little Tikes Treasure Hunt Sand & Water Table is great for little ones to enjoy both indoors and out. When I was putting it together, Joey thought he could make great use of it as a chair before all the toys and sand were inside.
We like to keep our sand and water table in the garage for easy access when we are out playing in the driveway or front yard with the kids. It's great because the water portion of the table becomes the lid to cover everything up when not in use protecting your sand and toys.
The Treasure Hunt Sand & Water Table is intended for children ages 2 and up (Joey is 20 months and LOVES it). It comes with an assortment of coins and jewels to bury in the sand, as well as a variety of sand toys.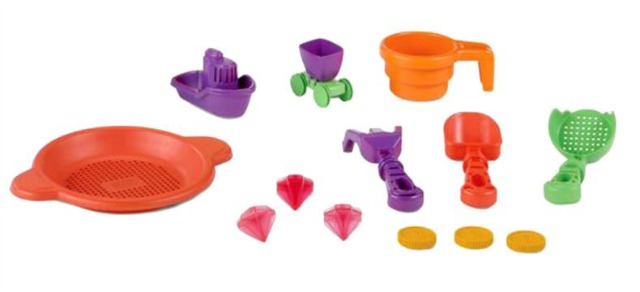 The kids have been having a blast sifting and digging in the sand, driving the train and toy cars around the track built in to the sand table.
The table can hold up to 50lbs of sand, (we picked up 2 bags of play sand from Home Depot for less than $5) and it is really sturdy.
I love that it is smaller in size and easy to move around so we can easily pack it up when we are done and put it back in the garage.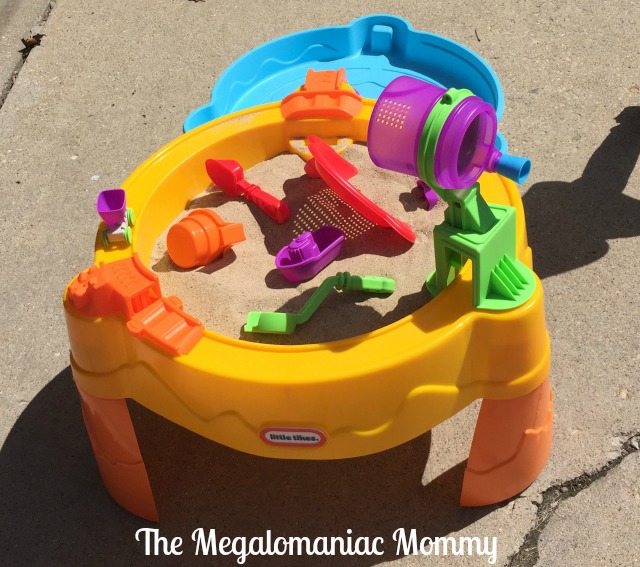 Another great feature is that I didn't need any tools to assemble the sand and water table and it was really easy to do.
There are so many ways for the kids to have fun and enjoy the Treasure Hunt Sand & Water Table and the kids really do enjoy it. I really like it because they get to stand up to play in the sand at their level and sand isn't being tracked into the house constantly like it is when they play in the sandbox.
Get Your Own
You can get your own Little Tikes Treasure Hunt Sand & Water Table
for just $59.99
Connect
You can connect with Little Tikes
on Facebook, Twitter and Instagram.
The following two tabs change content below.
Anne is a 30-something full-time SAHM mom of 5 ranging from 3 to 17 and grandma of 1 who resides in Ashwaubenon (Green Bay) Wisconsin. She started blogging in 2008 as a way to regain her sanity. She enjoys coffee, chocolate, cheeseburgers and vodka along with spending time with her husband and kids.