I'm still trying to wrap my head around the fact that in just over 2 weeks my kids will be out and about in the neighborhood trick or treating.
This year, for Halloween, Alexander has decided to go as…..wait for it……a Power Ranger….I'm so shocked. For the last 5 years, Alexander has been a Power Ranger for Halloween.
Since Ellie and Joey are both young and close in age, they are actually going dressed as some of their favorite TV characters, Jame & Izzy from Jake and the Never Land Pirates. After they decided on their costumes, Ellie thought it would be great if they could go trick or treating in a pirate ship, of course, I didn't know how or where we were going to find the time to pull of a pirate ship.
Thanks to the great folks at Little Tikes, our pirate ship adventure became more of a reality when they sent us a Little Tikes Cozy Coupe Wagon and Zack, being the awesome big brother that he is, offered to convert it into a pirate ship for the littles to trick or treat in.
The kids were just a little excited with their new wagon.
Between Zack's work schedule and school, he has been busy turning our new Cozy Coupe Wagon into a pirate ship for the kids to ride in on Halloween.
Now, since this was a Zack project he wanted to keep the cost low so he thought it would work to take the wagon and repurpose the box it came in.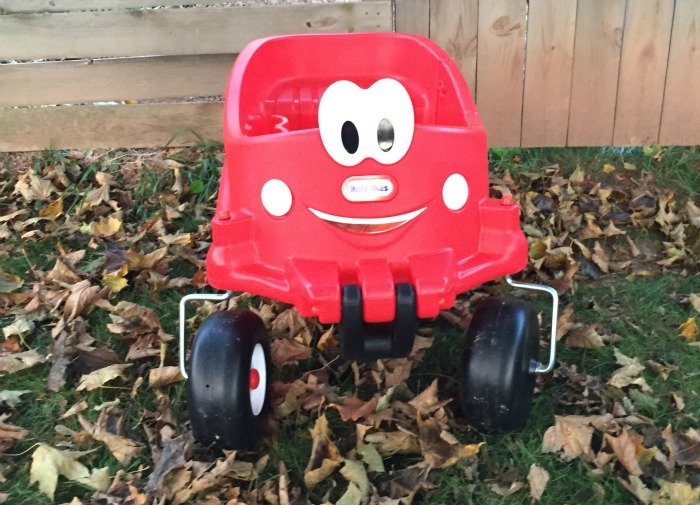 Zack started with the giant box and cutting out the two large sides, laid them out on the front lawn and spray painted them brown and added some black to make it seem like wood, added a port hole, a flag pole, and a mast.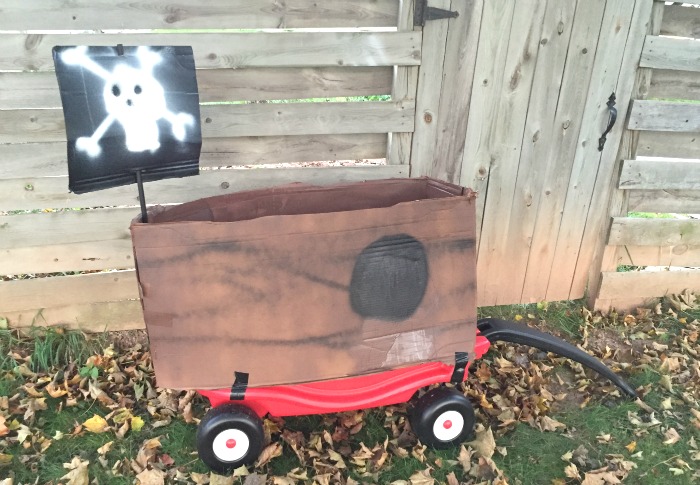 According to Zack, it's still a work in progress because he has a few more things he wants to add to it before Halloween. As far as Ellie and Joey are concerned, it's the coolest thing ever and it looks just like the Jolly Roger from Jake and the Never Land Pirates.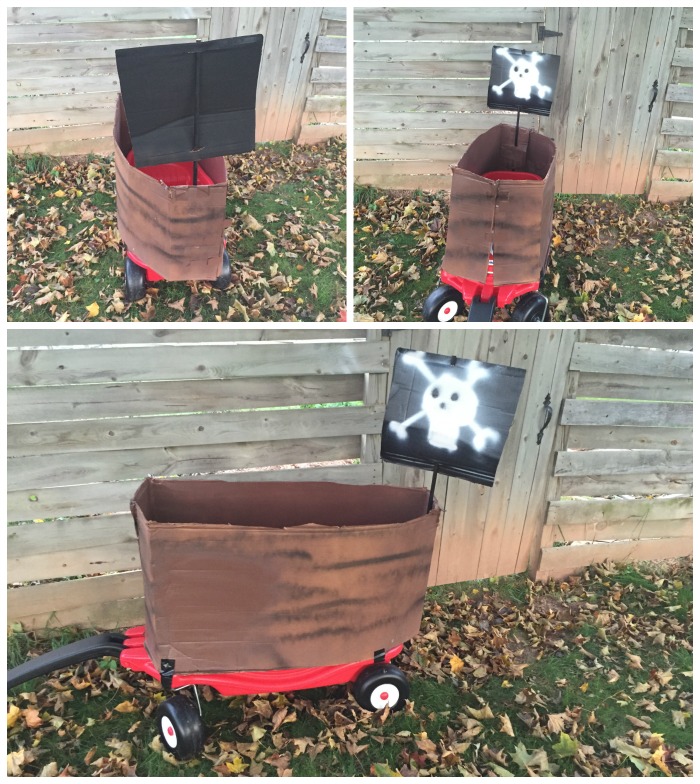 I think he plans to add a skirt of waves to it and a few other things if time (and the weather) allows for it before Halloween.
We are all just thrilled that the kids like it and can't wait to go trick or treating. Be sure to check back after Halloween for more pictures and to see the kids in costume in their pirate ship.
Get Your Own
You can get your own Little Tikes Cozy Coupe Wagon for just $79.99
Connect
You can connect with Little Tikes
on Facebook, Twitter and Instagram.
The following two tabs change content below.
Anne is a 30-something full-time SAHM mom of 5 ranging from 3 to 17 and grandma of 1 who resides in Ashwaubenon (Green Bay) Wisconsin. She started blogging in 2008 as a way to regain her sanity. She enjoys coffee, chocolate, cheeseburgers and vodka along with spending time with her husband and kids.
Latest posts by Anne Younger (see all)