I live in a house that is ruled by tiny people, tiny people with huge life goals. Joey may only be on the verge of turning 4 but he is already determined to be an animal doctor, ( he can't quite say veterinarian yet).
Having kids with big dreams means I like to do anything I can to encourage them to do whatever they need to do to get there, even at a young age.
Thanks to the folks at Little Medical School, Joey is going to be able to open his own little veterinarian office right here at home. (But for blog purposes, Ellie stepped in).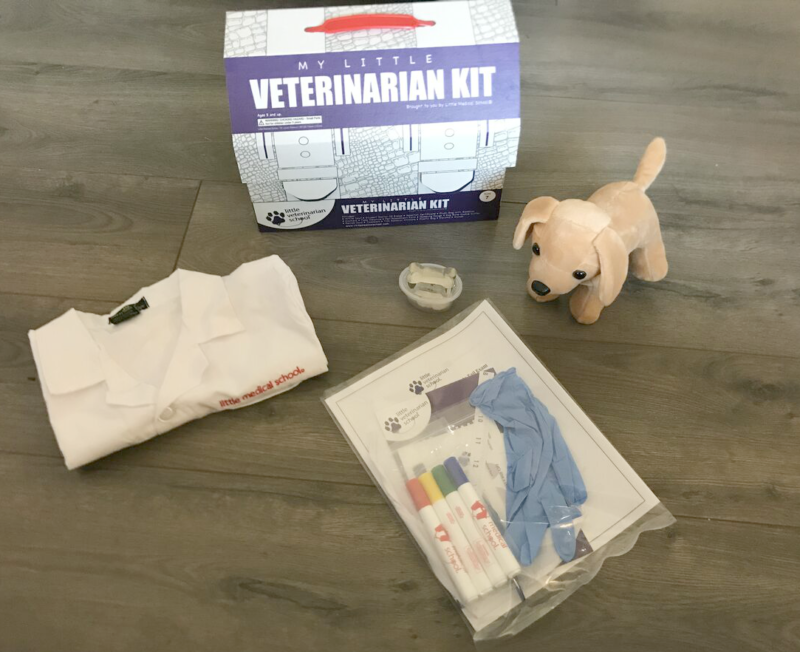 Little Medical School's retail line of kid-size healthcare wear, gear and activity items are just what every kid needs!
You can look for the Little Medical School logo on My Little Pediatrician, Veterinarian
or Sports Medicine Kits ($49.99), White Doctor Coat ($12), Organ and Skeleton Sticker Sets ($3) and more!
The power of role-play, crafts and games to simulate a mini-medical student is the brainy concept behind Little Medical School. Their popular after-school and summer programs for future veterinarians, pediatricians and even sports medicine have been empowering kids coast to coast!
The Little Veterinarian Kit items are a white coat, an adorable plush dog with an adoption certificate, dog bone cookie cutter and recipe cards, an animal assessment form, tape measure, name tag, tick removal kit plus a self-guided workbook with diploma and colored markers. The workbook engages little veterinarians with activities that are as fun as they are enlightening: adopting, naming, and learning about a dog, measuring the chest size perimeter and front leg length of the dog and even a tick check by removing tick stickers from the dog! Woof!
Tillywig Toy Awards caught the first glimpse of My Little Pediatrician Kit
and awarded it their Brain Child seal of approval. Inside this multi-piece kit are activities like a nose-to-toes exam on the enclosed plush baby, available in two shades of skin. Like all of the medical kits, My Little Pediatrician Kit promotes social development, cooperation, teamwork, creativity and problem solving.
The three role play kits will be available at Amazon
and at the company's website, www.littlemedicalschool.com.
You can also connect with Little Medical School on Facebook and Twitter.
The following two tabs change content below.
Anne is a 30-something full-time SAHM mom of 5 ranging from 3 to 17 and grandma of 1 who resides in Ashwaubenon (Green Bay) Wisconsin. She started blogging in 2008 as a way to regain her sanity. She enjoys coffee, chocolate, cheeseburgers and vodka along with spending time with her husband and kids.
Latest posts by Anne Younger (see all)