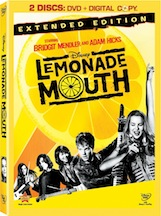 On Tuesday May 24th, Walt Disney Studios Home Entertainment released Lemonade Mouth on DVD.
Now when this movie was televised my kids watched it every time. We had the all Lemonade Mouth channel for quite some time, so I am very happy that we now have it on DVD.
Lemonade Mouth is about a group of freshmen who meet in detention and appear to have nothing in common but manage to bond through music by forming a high school garage band.
The DVD also includes a digital download of the film, and bonus materials including videos and a Rock Along feature which my kids really enjoyed!
Disclaimer: This promotion was based on using information provided by Walt Disney Studios Motion Pictures. Walt Disney Studios Motion Pictures does not represent or warrant the accuracy of any statements or product claims made here, nor does it endorse any opinions expressed within this blogsite. The opinions stated from me are 100% mine and they are my true thoughts on this film.
The following two tabs change content below.
Anne is a 30-something full-time SAHM mom of 5 ranging from 3 to 17 and grandma of 1 who resides in Ashwaubenon (Green Bay) Wisconsin. She started blogging in 2008 as a way to regain her sanity. She enjoys coffee, chocolate, cheeseburgers and vodka along with spending time with her husband and kids.