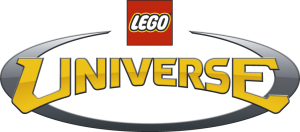 Hello everyone! Alex here to bring you the latest and greatest review my wife's blog has ever seen!!!! I know you are wondering why I would be writing this review and not my lovely wife. The answer is simple, I am a filthy, lousy lay about who likes to do nothing more than play video games (and that little three letter word our society seems so intent on keeping our young from hearing). Late last week, after waking up from my fitful day of peaceful slumber (as you should know by now, I work third shift so I get to sleep when the sun is up) my wife drops something on my desk and says, "Have fun!!!" Now I don't mind receiving presents, but to tell you the truth, I don't really get them that often, my wife gets to be the pampered one in this relationship. So I look down and what do I see. A pre-release copy of NetDevil's newest MMO, Lego Universe. When Lego decided to team up with the Star Wars brand and create a completely new form of gaming experience in Lego Star Wars: The Video Game, which released on April 5, 2005, I was filled with anticipation and dread. If you did not know already, I am a HUGE nerd and love Star Wars like other people like this guy named Jesus (note: I am Catholic so I like that guy too but just giving you a reference for my geekdom). So the potential of the license was warring with the mass hysterics that would be involved if they got it wrong. They ended up doing it very well and I was hooked on the Lego video games. I bought Lego Star Wars II the day it came out and proceeded to play it religiously. I know they have since released Lego Batman and Lego Indiana Jones, but the introduction of my megalomaniac wife and our wonderful children prevented me from playing ALL of the games I would have liked (I had to pick and choose which ones meant the most to my overall sanity as a hardcore gamer). Then my unequivocally voluptuous, loving, and insert any other overwhelmingly positive adjective here wife dropped this utter bombshell on my desk. Of course with my hectic life that includes work, sleep and going back to college online, I could not just put it in my computer and start rocking out. I didn't get the chance to take a hold of this monster until last Saturday.
If you want to know my reaction to the game then let us use my wife's words since they illustrate it best, "Are you ever going to stop playing that game and pay attention to your family?!?!?!?!" I have to admit it, I am addicted. I even thought about playing it during the Packer-Viking game this past weekend (I know, I know sacrilege to all of those who worship the green and gold, slowly raises hand).
This game takes all of the same game play elements from the other Lego games and introduces them to a new 'universe' if you will. While I still have the same complaint that many gamers and game critics have had from the start, the absolutely atrocious camera controls, this game is pretty solid. We were invited to a prelaunch event in the game this past Monday and that is where my other big issue with this game came into hand. My biggest pet peeve with online games is when they do not have enough server room to withstand an onslaught of individuals trying to play the game. They knew that this event was taking place but yet they didn't have enough space to allow all of the people in and I kept being kicked out every few minutes or couldn't get the game to connect me at all. If you want to have all of your reviewers on at the same time, you have to provide them the opportunity to actually log in at that time. Before then and after there haven't been that many issues. I will occasionally be kicked out of the game but that is normal for MMO's. It could be due to many different issues, internet lag, server error, or high loads.
The story is a pretty basic sci-fi-fantasy, four guys find this world that is a myth to everyone else in the universe and then due to one guy being evil, the whole universe is thrown into chaos and now everything as you know it is going to end unless you, the Lego model of your choice, can stop it. The flimsy story does not matter, truthfully, because this game is more about having fun. There are many different areas where you can race or compete in other activities and see where you stack up against your friends or all of the others who have participated. This allows for some definite replay value as you are constantly trying to do things faster, smarter or more accurately.
The combat system is pretty straight forward and the game does a good job of training you in the different aspects of gameplay by assigning you quests that give you additional abilities and force you to use a certain function to complete. This gets you into the game right away without having to play one of those tutorials that have no bearing on the greater game. The first area you start in gives you your rocket ship that will allow you to travel from one world to another.
Another wonderful facet of this game is that it truly embraces its roots by allowing you to build things with Lego bricks that you pick up on your adventures. You also have to divine how a contraption is put together to earn yourself a pet. When you try to tame a pet that will follow you around in the game and help you out in battles you must pick from an array of pieces and choose which ones you believe belong to the object. If you get it wrong, your character falls to the ground and pounds its fists in frustration. While some of these puzzles are painfully simple, some are relatively hard to digest. This mixture of difficulties allows for the game to suit a wide variety of players.
Now that I believe I have covered most of the games finer points, I would just like to point out that I will be going right back to the game once I am finishing this review. My preferences when it comes to games trend toward first person shooters and role playing games of the top quality (played Dragon Age: Origins, Mass Effect 1 and 2, and many other FPS's multiple times) but I have put all of them on the backburner, including an as yet unfinished campaign in Halo: Reach, to play this game. And to those of you who think this game might be too difficult for their younger ones, I know of a certain six year old girl (wink wink Madison) who likes to beg to play. The same goes for Zack. He loves to come and just sit by my desk and watch me play and ask questions so that when he gets his chance to play (usually when I am sleeping cause I am playing it all other times) he knows exactly what to do. I do have to say that this game has definitely helped his deduction and problem solving skills. I have declined from helping him when he gets stuck but he has found his way through all of the obstacles and puzzles so far.
Here are a few screenshots of the game to give you an idea of the graphics.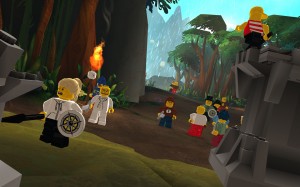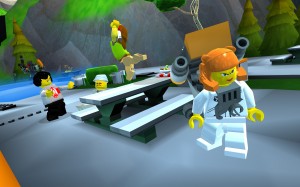 Rated E for Everyone – cartoon violence
Ages 10+
Requirements:
Paid subscription required to continue play. 1, 6 and 12 month subscription options available.
Internet connection required.
Playable on PC and MAC.
Where to Buy
Amazon.com
Current Monthly Subscription Rates:
The game includes a one month game subscription.To continue, subscribe online or by telephone.
US (USD)- 1 month $9.99; 6 months $49.99; 12 months $89.99
CANADA (CAD)- 1 month $12.99, 6 months $64.99, 12 months $119.99
So if you do decide to go out and get this game and would like to see a familiar face, add my wife and I as friends. Just look for Hardworkinghubby and megalomaniacmommy. Happy gaming!!!
The following two tabs change content below.
Alex
Hardworking Hubby is the amazing, 20-something husband of Anne, The Megalomaniac Mommy. When he's not busy working his full-time job at The Paint Palace, shuttling kids around, spending time with the family or catering to his wife's every need he enjoys spending time playing video games on both his custom self-built gaming rig (computer) and XBOX360, reading books by George R.R. Martin, Orson Scott Card, Rick Riordan (just to name a few), checking out the latest movies based on super heroes, and drinking good beer accompanied by the occasional cigar!