October has come and gone, fall has officially arrived, the weather is getting cooler and we are preparing for Thanksgiving and Christmas.
Until Christmas arrives and Santa brings the kids new goodies, they are busy enjoying some of their newest goodies from LeapFrog®.
Yep, the kids have been having a blast playing games on the new LeapFrog Epic Tablet
, fixing things with Scout's Build & Discover Tool Set
, and cooking with the Number Lovin' Oven
.
The LeapFrog Epic Tablet
The Epic Tablet is designed for kids ages 3-9 years and is ready for your kids to explore, play, imagine, and create.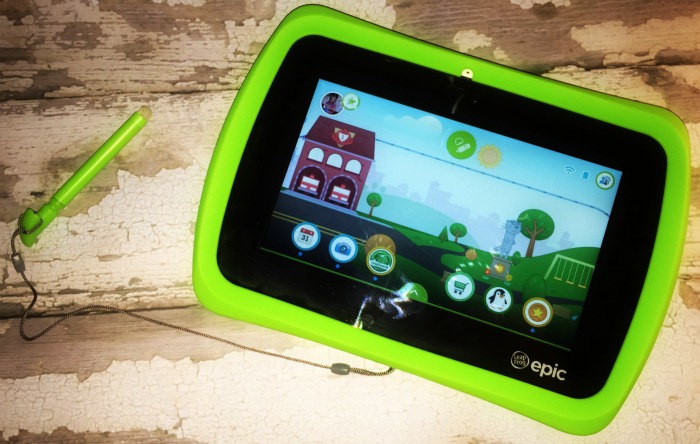 With the Epic, kids can bring an entire town to life while using various art styles, add characters, watch their world go from day to night, change the weather, and so much more!
Like other LeapFrog products before it, the Epic has access to LeapFrog-exclusive content like games, apps, ebooks, and more to encourage kids to be creative and solve problems.
Ellie and Joey are just getting into using the Epic but mainly use it for drawing pictures of rainbows and flowers for mommy, Alexander really enjoys using it to play games like Math Master since his brain is made of math (his words). Honestly, he has figured out more to do with the Epic then I have and he's only 7!
What I love about the Epic (as well as other LeapFrog products) is the ability to download new apps as the kids grow and their learning needs change.
The LeapFrog Epic Tablet offers a 7″ screen, 16GB memomy, Wi-Fi, 2MP camerals, stylus, and 20+ apps. (LeapFrog cartridges are NOT compatible with the Epic Tablet). As a mom, using the Epic gives me a peace of mind knowing that the kids can only access pre-selected, kid-safe web content.
I can't wait to see what the kids learn to do next thanks to the Epic Tablet.
Number Lovin' Oven
If you have kids that love to create in the kitchen like mine do, then you need to check out the Number Lovin' Oven. Not only is this little oven fun to play with and serve up some pizza and cupcakes to everyone around but it's a great learning tool too.
Designed for kids ages 2 and up, the Number Lovin' Oven comes with 16 fun ingredients and is loaded with over 30 songs to get kids singing and get their number skills cooking!
Ellie and Joey love this little oven and it gets carried all over the house. I also credit this little gadget with teaching Joey (age 2) to count to 5!
I will continue to let my kids cook for me all day long if they are dancing, singing, learning, and having lots of fun while doing it!
Scout's Build & Discover Tool Set
Now if you have a kiddo that enjoys building like my little Joey does, they will LOVE Scout's Build & Discover Tool Set!
This little tool set is an adorable dog house that kids can take apart and put back together using the included tools (hammer, saw, ruler, screwdriver and wrench) and manipulating different pieces of it. Of course, this little set also gets toddlers talking and singing with their puppy pal Scout. Building, counting, matching and more equals lots of fun for the little ones!
Connect
Be sure to connect with LeapFrog on Facebook, Twitter, Instagram and YouTube.
The following two tabs change content below.
Anne is a 30-something full-time SAHM mom of 5 ranging from 3 to 17 and grandma of 1 who resides in Ashwaubenon (Green Bay) Wisconsin. She started blogging in 2008 as a way to regain her sanity. She enjoys coffee, chocolate, cheeseburgers and vodka along with spending time with her husband and kids.