Today was Alexander's last day of 4K and I can't believe the year is already over. It is amazing to see how much he has grown and learned in his first year of school and I love to see the excitement on his face when we talk about him going off to 5K in the fall. He is looking forward to learning more and seeing his friends again but until then he plans on enjoying the summer!
Here is a side-by-side picture of him from the first day of school and today, his last day of 4K.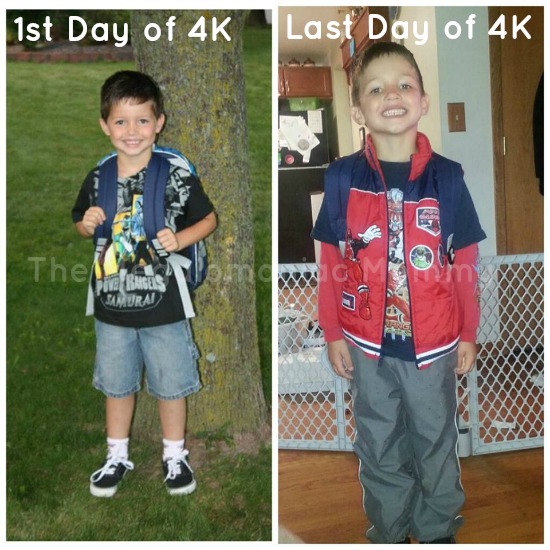 My baby has turned in to quite the little man during his first year of school and boy did he get big! It's crazy to think that come fall he will be gone to school for a full day just like his big brother and sister leaving me home with a toddler and an infant. Until then, I am looking forward to a crazy fun summer with the kids!
Tomorrow we will be celebrating Zack graduating from 8th grade and Libby leaving 7th grade behind her. Watch for pictures and updates!
The following two tabs change content below.
Anne is a 30-something full-time SAHM mom of 5 ranging from 3 to 17 and grandma of 1 who resides in Ashwaubenon (Green Bay) Wisconsin. She started blogging in 2008 as a way to regain her sanity. She enjoys coffee, chocolate, cheeseburgers and vodka along with spending time with her husband and kids.
Latest posts by Anne Younger (see all)