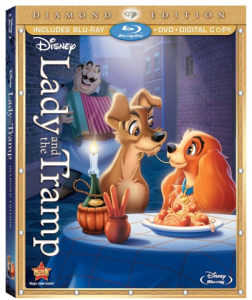 This past weekend, I introduced my children to the story of Lady & The Tramp.
You know, classic tale of Dog meets girl.  Dog falls in love with girl.  Dog and girl share spaghetti in a super cute scene.
Yes, that movie.
Lady & The Tramp is a classic love story.
Lady, a pampered and pedigreed cocker spaniel falls head over heels in love with Tramp, a street smart pooch.
Although they have fun together on several dates, including the spaghetti dinner by moonlight at Tony's restaurant, their relationship is strained not only by Lady's loyalty to her human family and their newborn baby, but by Tramp's devil-may-care attitude that eventually gets Lady in trouble and tossed into the dog pound. However, good-hearted Tramp redeems himself by saving the baby from potential harm and thus wins Lady's love and
the affection of her human family.
For the first time ever, Lady & The Tramp is being released on Blu-ray with an array of bonus materials. After we watched the movie together, the kids and I flipped through the never-before-seen deleted scenes and checked out the never recorded song "I'm Free as the Breeze" along with "the Siamese Cat Song". The kids also thought it was pretty cool to see the original 1943 storyboard version of the film. That is just a small sampling of the packed bonus features!!
You can check out more great things about this movie and indulge in some great activities using the widget below!

Disclaimer:  We were provided with a promotional copy of this film in exchange for our complete and honest review.  All thoughts and opinions are our own.
The following two tabs change content below.
Anne is a 30-something full-time SAHM mom of 5 ranging from 3 to 17 and grandma of 1 who resides in Ashwaubenon (Green Bay) Wisconsin. She started blogging in 2008 as a way to regain her sanity. She enjoys coffee, chocolate, cheeseburgers and vodka along with spending time with her husband and kids.
Latest posts by Anne Younger (see all)