Alexander loves blocks and race cars.
Last weekend he was over by my parents and sat on my dad's lap for 3 hours straight watching a Nascar race.
His eyes were glued to the TV.
When I picked him up later that night, he had successfully learned the phrases…."Boogity! Boogity! Boogity!" and "Let's go racing boys!"
Now, every time he sees a race car he repeats these lines over and over and over again.
Especially now that he has the K'NEX Roary the Racing Car Maxi Building Set.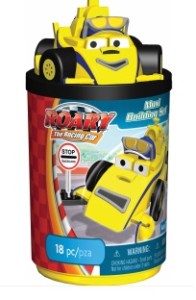 This set is for children ages 3 and up and contains 18 pieces and is easy for a toddler/preschooler to manipulate and assemble.
My little Alexander is a huge fan of this set and has already asked that we get the others. (This is what I get for leaving the Roary the Racing Car page open on my computer).
Another great thing about these building sets is that all of the Roary the Racing Car sets include an adapter that lets kids use their car on many popular toy train tracks, an image above details how this works.
You can find the K'NEX Roary the Racing Car sets at Toys R' Us.
Disclaimer: This product review was based on using a complimentary product provided by K'Nex. K'Nex does not represent or warrant the accuracy of any statements or product claims made here, nor does it endorse any opinions expressed withing this blogsite. The opinoins stated from me are 100% mine and they are my true thoughts on the product.
The following two tabs change content below.
Anne is a 30-something full-time SAHM mom of 5 ranging from 3 to 17 and grandma of 1 who resides in Ashwaubenon (Green Bay) Wisconsin. She started blogging in 2008 as a way to regain her sanity. She enjoys coffee, chocolate, cheeseburgers and vodka along with spending time with her husband and kids.
Latest posts by Anne Younger (see all)