All 3 of my kids recently got the chance to review some awesome K'Nex building sets thanks to the nice people at K'Nex.
K'Nex was kind enough to send us 3 different sets. We received the Sesame Street Kid K'Nex Neighborhood Collection School Bus Building Set, the Sesame Street Kid K'Nex Neighborhood Collection Fire Truck Building Set and the K'Nex Light Up Ferris Wheel.
We have always been big fans of K'NEX products. My oldest son got interested in them when he hit Kindergarten and has been addicted ever since. Needless to say, he was very pleased when the box of products arrived. The minute Zack and Libby laid their eyes on the box for the K'Nex Light Up Ferris Wheel, smiles popped on their faces.
So today, while the toddler slept, Zack and Libby sat down together, for 2 hours (without fighting once) and assembled the ferris wheel.
Here is their masterpiece: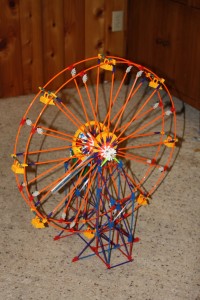 They had so much fun putting it together It was pretty easy for them to follow the instructions and assemble on their own. They even managed to put the batteries in it all by themselves too!
I thought it was a pretty cool toy and not only enjoyed watching them put it together but I enjoyed the 2 solid hours of them getting along with absolutely ZERO bickering, throwing things or beating on each other! It was GREAT! Thank you for my sanity K'Nex!!!
The cool thing about the ferris wheel is it lights up and moves! I took a quick video so you could see it in action. (Please pay no attention to any yelling or screaming that may be coming from the background…..there's 3 kids in my house yo.
Isn't that cool?
As I mentioned above, the little Alexander was also in on a K'Nex review as well. He was the recipient of Sesame Street building sets. He of course, was beyond excited when I opened the box and he saw Elmo. He immediately started running around saying,"For me mommy? It's mine?!"
We got started on assembling them both right away.

He had soooooo much fun helping Daddy put both of them together.
I can tell you, Alexander more than likes his new toys. He gave them hugs and kisses when they were all put together and proceeded to take them to bed and play for the next week. I'm sure he'd still be sleeping with them every night if we hadn't broken the cycle by going on vacation for 4 days.
I would like to send a HUGE shout out to K'Nex for the amazing generosity in allowing us to review these great products.
Thank you.
Thank you.
Thank you.
Disclaimer: This product review was based on using a complimentary product provided by K'Nex. K'Nex does not represent or warrant the accuracy of any statements or product claims made here, nor does it endorse any opinions expressed withing this blogsite. The opinoins stated from me are 100% mine and they are my true thoughts on the product.
The following two tabs change content below.
Anne is a 30-something full-time SAHM mom of 5 ranging from 3 to 17 and grandma of 1 who resides in Ashwaubenon (Green Bay) Wisconsin. She started blogging in 2008 as a way to regain her sanity. She enjoys coffee, chocolate, cheeseburgers and vodka along with spending time with her husband and kids.