Lately in our kitchen, my 2 oldest children have begun to show an interest in cooking.
If I'm baking brownies, cake or cookies my daughter will chime in and ask if she cancrack the egg and my son wants to pour.
We have been trying to find some kid friendly recipes to allow them to help out more or even some that they can do completely on their own.
Now mind you, the 2 oldest in our house are 10 & 9 and are pretty self-sufficient.
The latest recipe I have stumbled upon that I thought I would let them take for a drive is for English Muffin Pizzas.
Here is everything you need to know to introduce this recipe to your children while I run out to the store to get everything for mine to make them as well!
Be sure to let me know what your kids thought!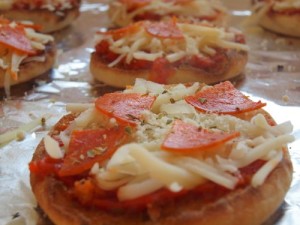 English Muffin Pizzas
2013-04-08 23:58:25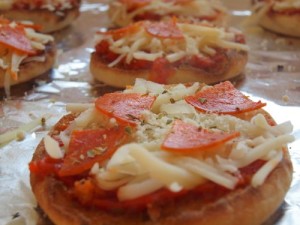 Ingredients
1 split English Muffin
pizza sauce
pizza cheese (shredded)
your favorite toppings such as: mushrooms, pepperoni, green pepper, pineapple, bacon…etc.
Instructions
1. Toast your English muffins.
2. Spread pizza sauce evenly on muffin halves.
3. Sprinkle cheese on top and add your toppings!
4. Put on tray and put into oven set on bake at 375 degrees. Cook for about 5 to 10 minutes or microwave for 30 seconds!
The Megalomaniac Mommy http://themegalomaniacmommy.com/
The following two tabs change content below.
Anne is a 30-something full-time SAHM mom of 5 ranging from 3 to 17 and grandma of 1 who resides in Ashwaubenon (Green Bay) Wisconsin. She started blogging in 2008 as a way to regain her sanity. She enjoys coffee, chocolate, cheeseburgers and vodka along with spending time with her husband and kids.
Latest posts by Anne Younger (see all)