*This post is made possible by Joovy. I received a promotional item in order to facilitate this review. All thoughts and opinions are my own. This post may contain affiliate links.*
Just over a week ago, we got an awesome delivery via FedEx from our friends at Joovy. Imagine how excited I was to see this box come through our front door!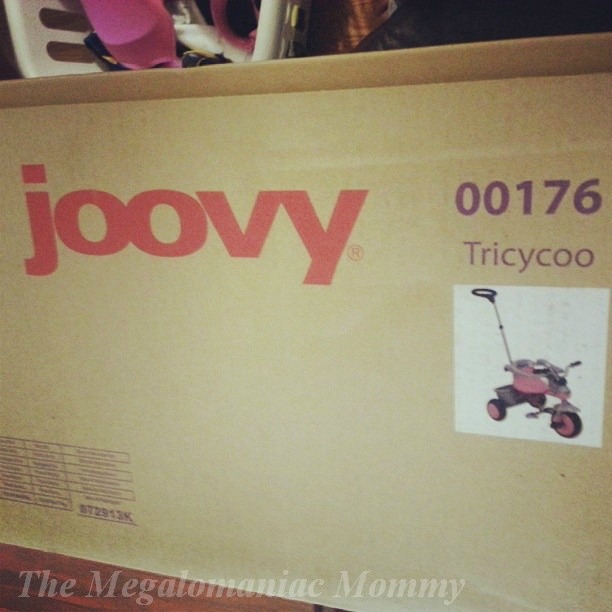 Talk about instant excitement! Now that little Miss Ellie is becoming more independent I have been trying to find more fun things for her to do outside and the Joovy Tricycoo is just what we needed! And it's PINK!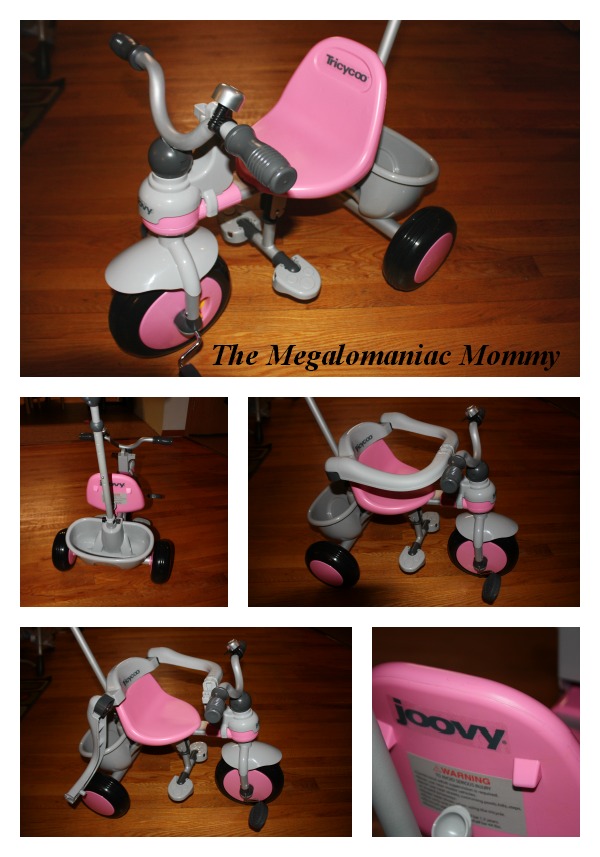 The Joovy Tricycoo is perfect for ages 18 months and up (Ellie is 22 months) and it is the perfect way to introduce your little one to balance and coordination.
I love that the Tricycoo is actually two ride-on toys in one. If you child isn't ready to steer, pedal or balance on their own you can guide them with the (removable) parent push handle by flipping the switch on the front wheel and engaging parent mode which will override the steering.
The Front Wheel Pedal Locking System
To FREE the front pedals, pull the lever counter-clockwise. This allows the pedals to spin without the force of the wheel to prevent injury to the child's feet.
To LOCK the front pedals, pull the lever clockwise. This will allow the child to pedal the tricycoo.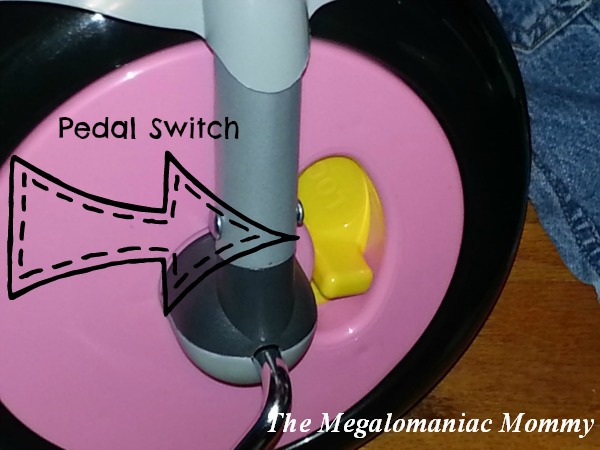 If you're worried that your little one isn't big enough to sit in the seat without falling or reach the footrests, no need to worry because Joovy has thought of that too! Put your mind at ease and let your little one ride in style using the baby surround arms. The arms are easy to install/remove and open and close. The Tricycoo also has a fold down foot rest on each side so your little one has somewhere to rest their feet.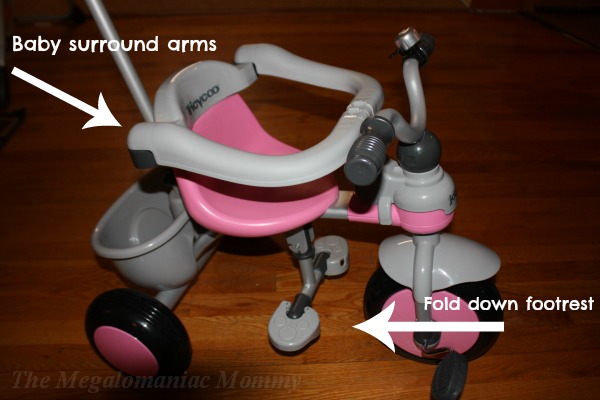 The Tricycoo also has some pretty cool fun features as well and these happen to Ellie's favorite things! There is a super easy to use bell on the handle bar and it doesn't come with the annoying sound most bells have. The rear of the bike offers a basket for easy transportation of your child's favorite things. For Ellie, the basket carries her sippy cup and her blankie.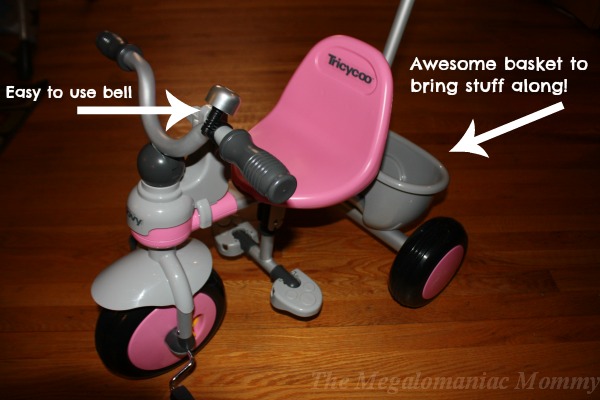 The Tricycoo stands out from other trikes because it has sports injection-molded wheels with urethane treads which makes it perfect for both outdoor and indoor use and it rolls quietly on most floors. This is a real win for us because 90% of our house has hardwood floors, the other 10% is vinyl laminate. Ellie can zip around the house and the sound doesn't drive me insane and doesn't wake the baby.
Ellie has already showed us that she is not a fan of the baby surround because she likes to be independent and get herself on and off her bike. She's not able to really pedal it on her own yet but she sure does like to try. Until she is ready, I'm sure she will continue to let the rest of us push her around and take her for a ride!
I can't believe how big she is getting and I just know that it's just a matter of time before she figures out she can pedal on her own and she will be off just like that!
The Joovy Tricycoo makes a great gift and is sure to bring a smile to the child in your life this holiday season!
Connect:
You can connect with Joovy on Facebook and Twitter.
Buy It:
You can buy a Joovy Tricycoo of your own on for $129.99 or locate a store near you that carries them using the Store Locator.
*Thank you again to Joovy for providing us with this opportunity, I am proud to be a Joovy Mom!
The following two tabs change content below.
Anne is a 30-something full-time SAHM mom of 5 ranging from 3 to 17 and grandma of 1 who resides in Ashwaubenon (Green Bay) Wisconsin. She started blogging in 2008 as a way to regain her sanity. She enjoys coffee, chocolate, cheeseburgers and vodka along with spending time with her husband and kids.
Latest posts by Anne Younger (see all)