*This post is made possible by Joovy. I received a promotional item in order to facilitate this review. All thoughts and opinions are my own. This post may contain affiliate links.*
Can you believe our little Ellie is already 19 months old? I think it is absolutely crazy how quick the months have gone by and now here she is, this little person who is bursting with personality!
Not only is that girl of ours filled with personality but she is leaps and bounds ahead when it comes to development and it is taking us all by surprise.
For the last 2 months, Ellie has been showing a great deal of interest in the bathroom and likes to accompany me to the potty every time I go (and at this stage of my pregnancy, that is A LOT). Any time I say I have to go to the bathroom or potty, she runs for the gate and straight to the bathroom to show me where the potty is and she sits and waits for me to go and of course, she applauds me when I'm done.
Since she started showing so much interest is the bathroom, we decided now was a great time to introduce her to a Ellie sized potty and see how she would react to it.
2 weeks ago, we welcomed the Joovy Loo Potty Chair into our home and Ellie has become quite fond of it.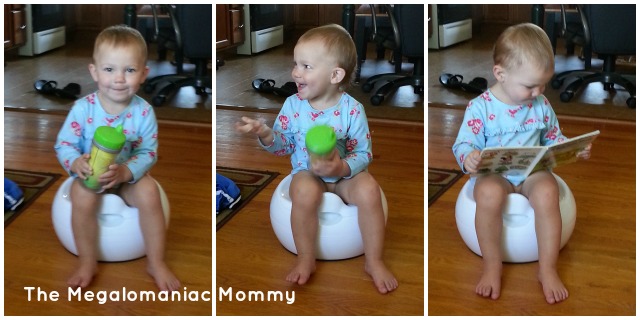 From the moment it came out of the box, our little lady has kept her eye on it. For the first week we left it in the living room and just let her sit and play on it. Every time she went to sit on it, she insisted she do it with her bottom free just like a big girl. On day 4, she actually pooped in the potty and she got SOOOOO excited! There was a lot of applause!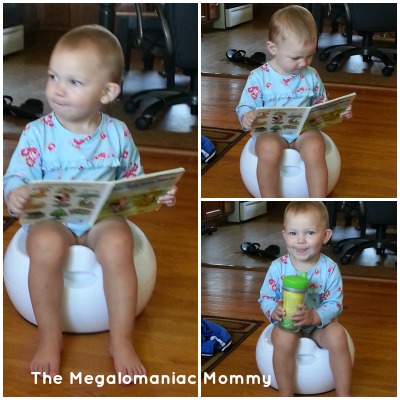 We have since moved the Loo to our full size bathroom and now everytime I use the potty, she sits on hers and tries to go too!
The Joovy Loo combines contemporary styling with watertight cleanliness to give you the most functional potty on the market.
After having potty trained 3 other kids, I knew this time around that we needed a potty seat that was functional, and easy to clean. I am not a fan of potty seats that have multiple pieces to take apart and clean after each use and thankfully the Loo offers quick and easy clean up! The Loo has a completely sealed inner bowl and has been designed with only two parts that fit cleanly together with no nooks or crannies for spill overs to get trapped.
Its non-slip base offers stability during use and the integrated splash shield prevents spills. The large capacity bowl has plenty of fill space and is easy to lift out and empty with our no-touch grab handle. As an added bonus, the Loo is BPA, PVC and Phthalate Free!
Ellie loves this seat so much that she would probably sit on it and watch an entire movie if we were to allow her to do so.
I can't wait to see how she progresses as we move forward with potty training!
Connect:
You can connect with Joovy on Facebook and Twitter.
Buy It:
You can buy a Joovy Loo of your own on Amazon
for $39.99
or locate a store near you that carries them using the Store Locator.
*Thank you again to Joovy for providing us with this opportunity, I am proud to be a Joovy Mom!
The following two tabs change content below.
Anne is a 30-something full-time SAHM mom of 5 ranging from 3 to 17 and grandma of 1 who resides in Ashwaubenon (Green Bay) Wisconsin. She started blogging in 2008 as a way to regain her sanity. She enjoys coffee, chocolate, cheeseburgers and vodka along with spending time with her husband and kids.