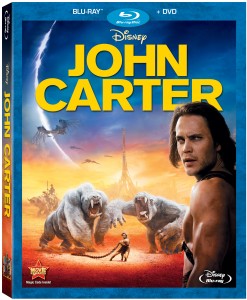 Okay, I am going to be honest. I like movies that a funny, drama filled, animated and those that make me cry. I have never been the type of person who can get into the sci-fi / fantasy industry…I have always left that to the Alex AKA The Sci-Fi Daddy. I have tried time and time again to watch movie after movie but I just keep falling asleep 15 minutes in. They have always bored me and I lost interest quickly.
So, imagine how surprised I was to stay awake for John Carter AND I enjoyed the movie!! I had to watch the movie alone (Alex is currently reading the John Carter books) so I was shocked that I got into it and watched it from start to finish.
For those unfamiliar with the film, John Carter is set on the exotic planet of Barsoom (Mars). John is a war-weary, former military captain who's inexplicably transported to Mars and reluctantly becomes embroiled in an epic conflict.
This movie was AMAZING. It had stunning special effects, the characters and villains were wonderful and it did not disappoint in the bonus features!
The movie contains Disney Second Screen which allows you to explore the journal of John Carter and uncover oodles of details that extend the mythology of the movie. (Disney Second Screen is something that has become a huge hit in our home!)
John Carter is available in stores today, June 5th or you can get it online!

Disclosure: I received a promotional copy of this film for review purposes. All thoughts and opinions are my own. This post does contain an affiliate link.
The following two tabs change content below.
Anne is a 30-something full-time SAHM mom of 5 ranging from 3 to 17 and grandma of 1 who resides in Ashwaubenon (Green Bay) Wisconsin. She started blogging in 2008 as a way to regain her sanity. She enjoys coffee, chocolate, cheeseburgers and vodka along with spending time with her husband and kids.