As I have mentioned in multiple posts, we watch A LOT of Disney Jr. in our home thanks to the ever lovable Alexander.  One of his favorite shows aside from Mickey Mouse Clubhouse is Jake and the Never Land Pirates.  Apparently I watch it with him enough because I always seem to find myself singing the theme song!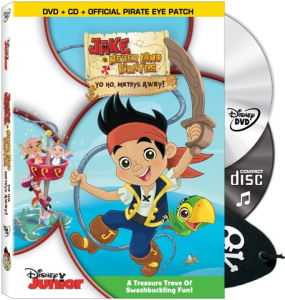 Jake and The Never Land Pirates: YO HO, MATEY AWAY was released on DVD on September 27th in a 2 Disc Combo Pack that includes:
Disc 1
Episodes
1. Hats Off to Hook/Escape From Belch Mountain (Definitely one of Alexander's favorites!)
2. Hide the Hideout/The Old Shell Game
3. Izzy's Pirate Puzzle/The Never Land Games
4. Off The Hook/Never Say Never! (Never Say Never is sure to leave you singing!)
5. Cubby's Sunken Treasure/Cubby's Goldfish
6. Happy Hook Day/No Returns!
7. The Sky's The Limit/Bucky Makes A Splash
BONUS FEATURES
The "Pirate Party" music videos
Pirate-oke Sing Along = A TON OF FUN!!!
Yo Ho, You Ready to Be A Never Land Pirate?
Disc 2 is a music CD featuring 7 songs that our little TaterTot has been enjoying!
And finally, there is even a Bonus-Bonus Feature——A PIRATE EYE PATCH!!!!
Talk about oodles of fun in one little package!!
Here's a clip of the Escape From Belch Mountain episode.
Disclaimer: This promotion was based on using information provided by Walt Disney Studios Motion Pictures. Walt Disney Studios Motion Pictures does not represent or warrant the accuracy of any statements or product claims made here, nor does it endorse any opinions expressed within this blogsite. The opinions stated from me are 100% mine and they are my true thoughts on this film.
The following two tabs change content below.
Anne is a 30-something full-time SAHM mom of 5 ranging from 3 to 17 and grandma of 1 who resides in Ashwaubenon (Green Bay) Wisconsin. She started blogging in 2008 as a way to regain her sanity. She enjoys coffee, chocolate, cheeseburgers and vodka along with spending time with her husband and kids.
Latest posts by Anne Younger (see all)