What was supposed to be a weekend filled with fun and a side of yardwork, turned into a weekend of a husband who came home sick Friday night and released the plague on our family. So Friday night quality time with the hubby was shot and well, Saturday was pretty much a wash too since he slept almost the entire day. When he finally did get up, it was to the couch where to he continued to rest.
On Sunday, he was feeling better so we made our way to my parents house for a cookout and to visit with my Aunt who was in town for the weekend. The kids had a blast since my Aunt showed up with a pinata filled with candy…she was competing against my other Aunt who brought a veggie tray and dip.
I'm pretty sure that Aunt T won with the pinata because they sure had fun.
After the pinata, Pa the Great got the hot tub ready for the kids to enjoy along with some bubbles.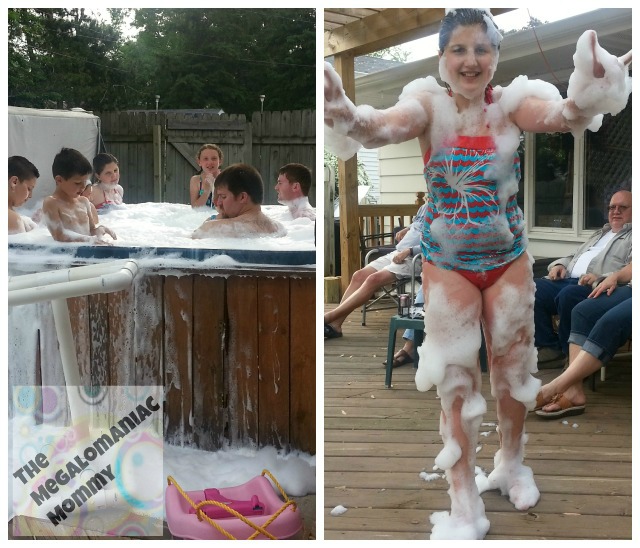 As you can see, they had a good time.
After a day of eating, swimming, hottubbing and more we called it a night and headed home. The in-laws popped over for a bit to drop of some goodies for Baby Joey and shortly after they left, our day went from great to awful!
It was less than 5 minutes after they walked out the door, got in their car and drive away that Alexander jumped from my lap and threw up all over the living room floor, not once….but twice.
After getting him all cleaned up an situated, we got Ellie to bed and Zack reported he wasn't feeling well and was going to take a shower before bed, so off he went.
About 20 minutes later I checked in on Ellie using our video baby monitor and just as I turned the volume on she started to cough, sat up and then I heard it….she was now puking too. Alex and I got her stripped down and ready for the tub and next thing we know is Zack is out of the shower and he's not throwing up too.
This is how our night went.
For 4 hours, they went around in a circle throwing up, one right after the other.
Ellie did it every half hour during the night while she was trying to sleep.
By morning, things settled down and the kids were starting to feel better…..I on the other hand was headed down hill. I crawled into our bed around 11:30am and didn't come out for 22 hours other than to use the bathroom.
On Tuesday I was feeling quite a bit better but shortly after Alex left for work I began to have chest pains that would come and go. They got so bad I ended up calling my mom in tears which also prompted a call to the OB, the Alex at work to come home and a 3.5 hour trip to the ER to get everything checked out. All my tests came back normal and doctor thinks that pain was just stress related (damn teenagers!).
The bad part of my trip to the ER was that I had to get a CT scan to check for a blood clot in my lung and my first IV blew as they were injecting the dye so I am currently in quite a bit of pain in that IV spot along with another on my wrist that also blew. In addition to 2 blown veins, I also have some other lovely bruises from were I was unsuccessfully poked. Sometimes it helps to listen to the patient when she tells you she has been sick and is dehydrated……
So here we are today, I'm on the road to recovery, the kids are all feeling 100% better, Libby never got bit by the bug and Alex has a cold.
Here's hoping nothing goes wrong this coming weekend so we can enjoy Father's Day.
The following two tabs change content below.
Anne is a 30-something full-time SAHM mom of 5 ranging from 3 to 17 and grandma of 1 who resides in Ashwaubenon (Green Bay) Wisconsin. She started blogging in 2008 as a way to regain her sanity. She enjoys coffee, chocolate, cheeseburgers and vodka along with spending time with her husband and kids.
Latest posts by Anne Younger (see all)